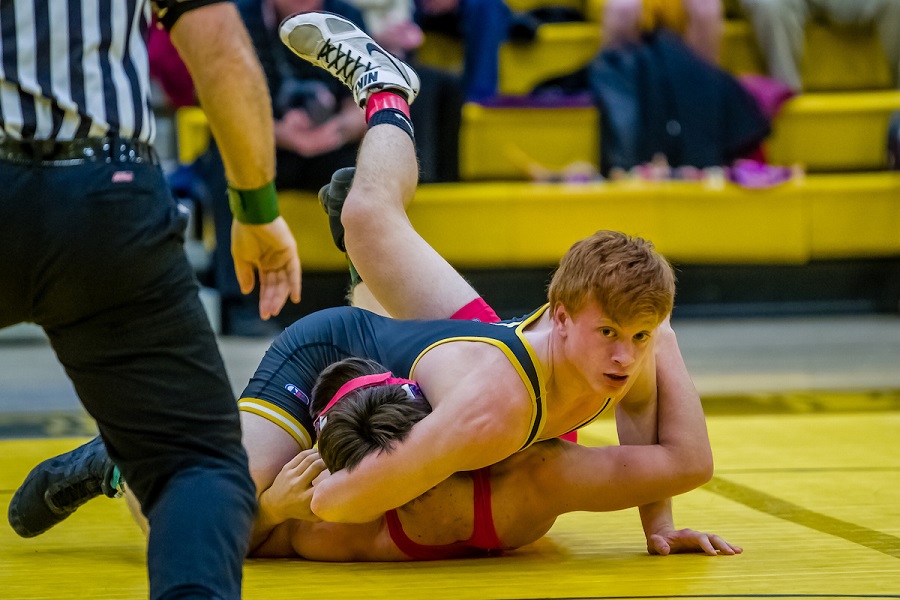 Two Wins At Team Tournament Advances NA To Semifinals
By Lee Mohn
The North Allegheny Tigers advanced to the WPIAL semifinals following wins over Peters Township, 64-6, and Penn Trafford, 42-28, in the opening rounds of the WPIAL team tournament on Wednesday night.
In the first match against Peters, the Tigers collected six pins from Frederick Junko (106), Jacob Downing (113), Gabe Falo (120), Eric Hong (160), and Jacob Fritsch (182).  The Wright Automotive wrestler of the match went to Benjamin Smallwood.  Smallwood moved up two weight classes to 220 pounds and gave up thirty pounds to his opponent, Grant Nelson, and won by 7-0 decision.
In the second match of the night, the Tigers had a tougher task against Penn-Trafford Warriors.  North Allegheny did not seal the victory until the 220 weight division. Junko got things started with a hard fought 4-2 victory over Brett Ginther.  The Tigers fell behind, 15-13, but picked up two consecutive pins courtesy of Zach Stedeford (138) and Jake Hinkson (145) to regain the lead they never relinquished.  North Allegheny picked up three more pins on the night by Hong (170), Fritch (195) and Jake Woodley (220).  Jacob Fritsch was named the Wright Automotive wrestler of the match for his dramatic pin with eight seconds left in the match over Matt Wilkey.
North Allegheny is now in the Class AAA final four and will face perennial power Canon McMillan Saturday at 12:00 p.m. at Penn Hills with the winner moving into the championship at 2:00 p.m.
Wrestling Match Summary: NA vs. Peters Township
| Weight | Wrestlers | Score |
| --- | --- | --- |
| 285 | Derek Devine (NA) wbf | |
| 106 | Frederick Junko (NA) pinned Bryce Wilkes (PT) | 5:25 |
| 113 | Jacob Downing (NA) pinned Will Kail (PT) | 1:07 |
| 120 | Gabe Falo (NA) pinned Dan Levine (PT) | 2:57 |
| 126 | Nick Marcenelle (NA) tech fall Jordan Marosz (PT) | 16-0 |
| 132 | Coltin Jezioro (PT) pinned Jake Hanson (NA) | 1:40 |
| 138 | Zach Stedeford (NA) maj. dec. Brandon Matthews (PT) | 9-1 |
| 145 | Jake Hinkson (NA) tech fall Daniel Florentino (PT) | 19-4 |
| 152 | Jon Hoover (NA) dec. Luke Mary (PT) | 5-2 |
| 160 | Eric Hong (NA) pinned Jacob Hurley (PT) | 0:57 |
| 170 | Jimmy Turici (NA) dec. Nick Phelps (PT) | 3-1 |
| 182 | Jacob Fritsch (NA) pinned Noah Hardy (PT) | 0:31 |
| 195 | Jake Woodley (NA) tech fall Shane Clark (PT) | 21-6 |
| 220 | Benjamin Smallwood (NA) dec. Grant Nelson (PT) | 7-0 |
*************
Wrestling Match Summary: NA vs. Penn-Trafford
| Weight | Wrestlers | Score |
| --- | --- | --- |
| 106 | Frederick Junko (NA) dec. Brett Ginther (PT) | 4-2 |
| 113 | Jacob Downing (NA) wbf | |
| 120 | Tony Zona (PT) dec. Gabe Falo (NA) | 5-3 |
| 126 | Nick Coy (PT) pinned Nick Marcenelle (NA) | 2:41 |
| 132 | Jobe Chishko (PT) maj. dec. Will Baierl (NA) | 16-5 |
| 138 | Zach Stedeford (NA) pinned Christopher Risnear (PT) | 2:46 |
| 145 | Jake Hinkson (NA) pinned Nick Kosan (PT) | 1:05 |
| 152 | Cameron Coy (PT) wbf | |
| 160 | Jon Hoover (NA) dec. Dominic Deluca (PT) | 4-1 |
| 170 | Eric Hong (NA) pinned John Bachar (PT) | 2:21 |
| 182 | Jimmy Turici (NA) pinned Matt McGillick (PT) | 2:22 |
| 195 | Jacob Fritsch (NA) pinned Matt Wilkey (PT) | 5:52 |
| 220 | Jake Woodley (NA) pinned Peyton Kelly (PT) | 2:55 |
| 285 | Josh Maglicco (PT) dec. Derek Devine (NA) | 5-4 |