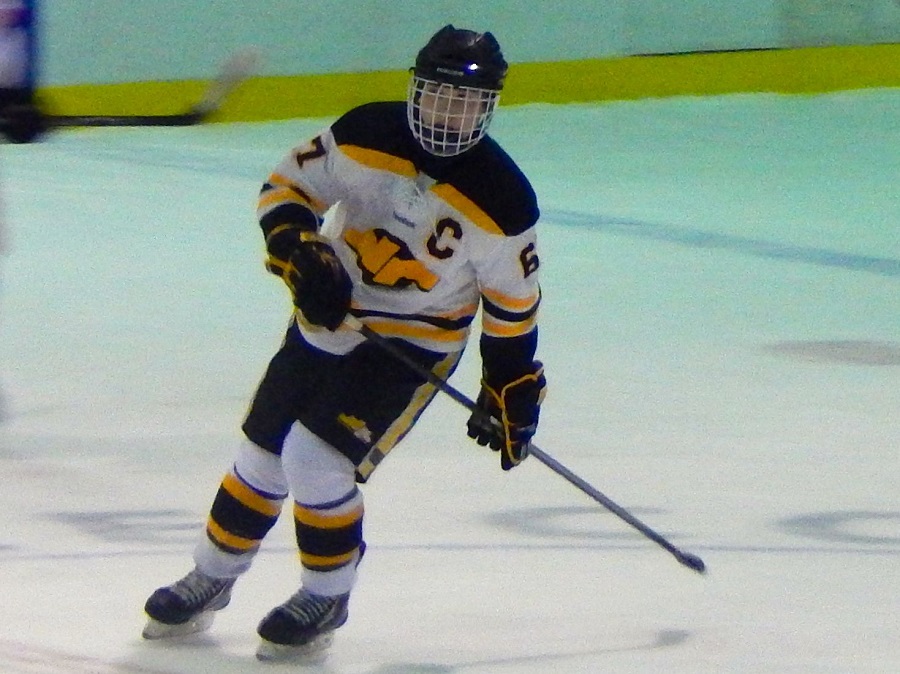 Warriors Oust Tigers In PIHL Quarterfinals, 5-4, In OT
For the third straight season, the North Allegheny Ice Hockey Team played an overtime game in the quarterfinal round of the PIHL Class AAA playoffs.  However, unlike last year's 2-1 overtime win over Canon-McMillan, the Tigers were on the short end of the score as the defending champions were eliminated by the Penn-Trafford Warriors on Thursday night, 5-4, at the BladeRunners in Warrendale.  Jacob Miller's hat trick, including the game winning goal in overtime lifted the fifth-seeded Warriors to the victory.
In the see-saw affair, Penn-Trafford opened up a 2-0 lead in the first period on goals by Patrick Cortazzo and Miller. Late in the opening stanza, NA's Marty Hubert let loose a slap shot that trickled off the glove of PT goalie Eric Phelps and leaked into the net to cut the score to 2-1, Warriors, with 32 seconds left in the period.  The bleeder by Hubert swayed the momentum as North Allegheny grabbed a 3-2 lead in the second period on markers by Dawson Richard and Joe Zappia. However, the Warriors Jordan Eisenstat answered with an equalizer with 16 seconds remaining in the period sending both teams to intermission in a 3-3 deadlock.
In the third, Miller struck for his second goal of the night with just 5:12 left in regulation to push the Warriors ahead, 4-3. In desperation mode, the Tigers pulled goalie Bradford Thornburgh in the final minute of the game for an extra attacker and the strategy paid off as Hubert evened the score with a wrist shot to force overtime. North Allegheny seemed poised to survive and advance but the Warriors staved off an early Tigers power play and numerous scoring chances in the first five minutes of the extra session. With 4:02 left in OT, Miller notched his third and final goal of the night to vault the Warriors into the PIHL semifinals for a meeting with the second-seeded Peters Township Indians.
Along with his hat trick, Miller, the leading scorer in Class AAA in the regular season, finished with a four point performance.  North Allegheny was led by Hubert's two goals and assist.  Hubert, North Allegheny's top scorer in the regular season, was the catalyst for the Tigers on offense, including his huge gut-check goal to force overtime. For his efforts, Hubert was named the Wright Automotive Player of the Game.
The Tigers concluded the regular season with a 12-7-1 record and Section 2 champions in Class AAA. With a wealth of returning talent next season, North Allegheny will once again vie for a PIHL title in 2014-2015.
Ice Hockey Summary vs. Penn-Trafford 3-6-14
| GAME SUMMARY | | | | | |
| --- | --- | --- | --- | --- | --- |
| SCORE BY PERIODS | 1 | 2 | 3 | OT | FINAL |
| Penn-Trafford | 2 | 1 | 1 | 1 | 5 |
| North Allegheny | 1 | 2 | 1 | 0 | 4 |
Ice Hockey Individual Scoring vs. Penn-Trafford
| INDIVIDUAL STATS | | |
| --- | --- | --- |
| FIRST PERIOD | | |
| Penn-Trafford | Patrick Cortazzo (Steven Cheswick) | 10:05 |
| Penn-Trafford | Jacob Miller (Jordan Eisenstat, Kenneth White) | 12:34 |
| North Allegheny | Marty Hubert | 16:28 |
| SECOND PERIOD | | |
| North Allegheny | Dawson Richard (Marty Hubert, Will Rahenkamp) - PP | 9:43 |
| North Allegheny | Joe Zappia | 13:15 |
| Penn-Trafford | Jordan Eisenstat (Jacob Miller, Jonah Graffius) | 16:44 |
| THIRD PERIOD | | |
| Penn-Trafford | Jacob Miller (Jonah Graffius) - PP | 11:48 |
| North Allegheny | Marty Hubert (Cameron Fisher, Michael Kramer) | 16:22 |
| OVERTIME | | |
| Penn-Trafford | Jacob Miller (Jordan Eisenstat, Jonah Graffius) | 5:58 |