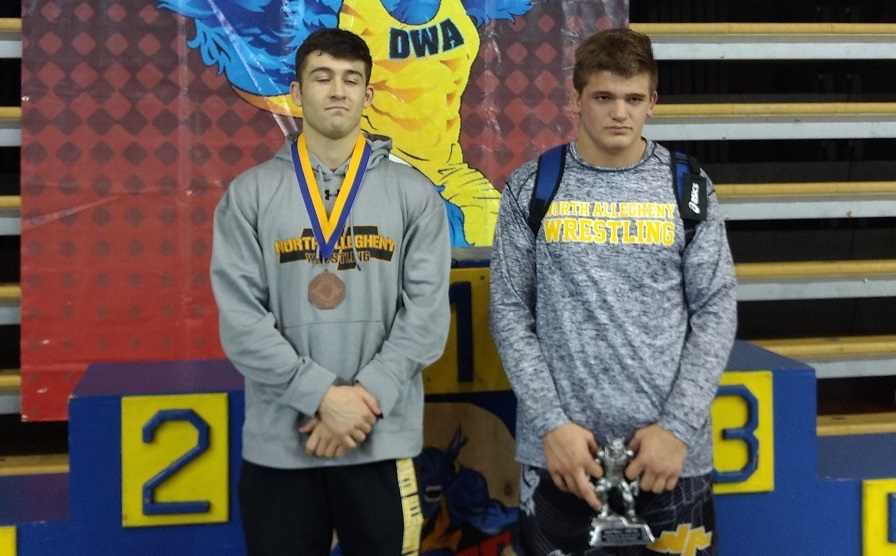 Woodley & Hinkson Medal, NA Impressive At Beast of the East
Competing at one of the toughest wrestling tournaments in the northeast, the North Allegheny wrestling team took 10th place out of 110 teams at the Beast of the East Tournament this weekend. The Tigers checked in with a team score of 109.5, the highest of any WPIAL teams who competed at the tournament and third best among PIAA schools. Blair Academy claimed first place with a team score of 290.
North Allegheny senior Jake Woodley had the top individual finish of any Tiger at the tournament by earning silver at 195 pounds. Following a first round bye, Woodley picked up a win by fall over Dalton Grace of Chambersburg in the second round. In the third round, Woodley defeated Richie Souders of Haverford by major decision, 11-2. Woodley faced a familiar foe in the quarterfinals and toppled Waynesburg's Colin McCracken in overtime, 3-1. It was another hard-fought victory for Woodley in the semifinals as he defeated the top seed and third-ranked wrestler in the country at 195 pounds, Brandon Kui of DePaul Catholic, 3-2, in double overtime. In the championship bout, John Borst of Sherando, the fourth-ranked wrestling in the country, edged Woodley in a heartbreaking a 3-2 decision.
Along with Woodley, senior Jake Hinkson medaled and finished in fourth place at 145 pounds. Hinkson's trek in the 145 pound bracket began with a 9-2 decision over Hadley Horner of Chantilly. In the second round, Hinkson earned a 7-0 decision over Dimitri Pihiou of Canon-McMillan and followed that up with win by fall in the third round over Tyler Williams of Blair Academy. Hinkson rolled to a 7-1 decision in the quarterfinals over Chase Archangelo of Smyma. In the semifinals, the third-seeded Hinkson was defeated by second-seeded Phil Conigliaro of Belmont, 7-1. Hinkson rebounded with a win in the consolation bracket, a 6-3 decision over McDonogh's Quinn Devaney. In the third-place bout, Ethan Krause of Georgetown managed a narrow 3-1 decision over Hinkson.
In all, eight NA wrestlers reached day two of the tournament, including Freddy Junko, Jacob Downing, Zach Stedeford, Jon Hoover, Sean Hoover and Jacob Fritsch. For a comprehensive look at the brackets from the tournament, click here.
The North Allegheny wrestling team will return to section action on Wednesday night with a visit to Fox Chapel at 7:00 p.m. The match will be broadcast live via the internet on the North Allegheny Sports Network.