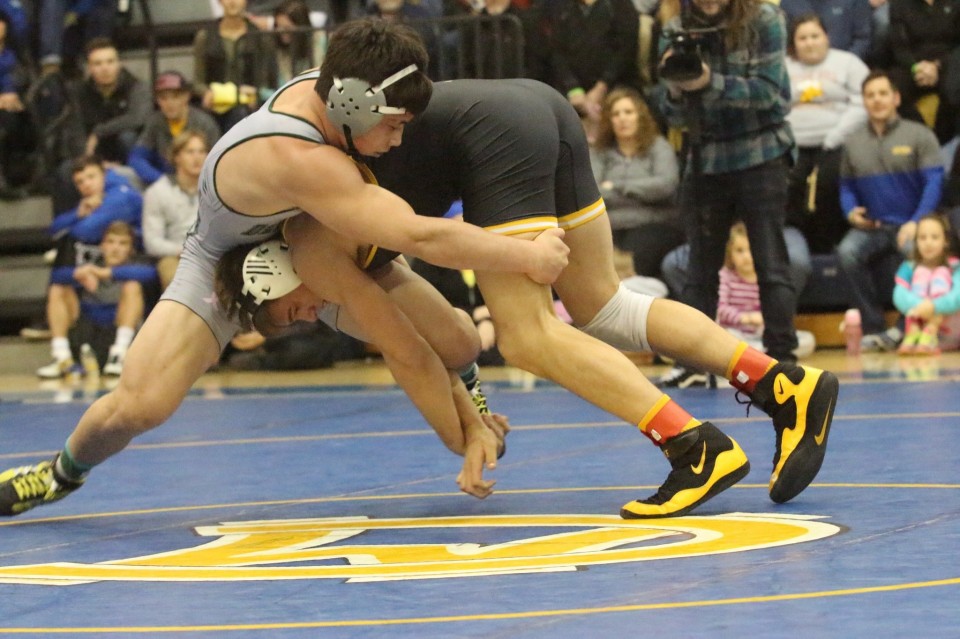 Woodley Takes Silver, Duggan Grabs Bronze at Powerade Tournament
With 96.5 team points, the North Allegheny wrestling team had a strong showing at the annual Powerade Wrestling Tournament at Canon-McMillan High School. The Tigers finished 14th out of 48 teams nationwide and posted the fourth-best score of WPIAL teams competing at the tournament.
Junior Jake Woodley was the top individual finisher for the NA grapplers with a second-place showing at 182 pounds. Woodley entered the tournament unseeded despite a No. 3 state ranking according to papowerwrestling.com. Woodley made his opponents pay the price for being unseeded and defeated fourth-ranked Jake Shaffer of Latrobe by a 7-2 decision in the Round of 16. In the quarterfinals, Woodley topped Milton Kobaly of Belle Vernon by a 4-2 decision and beat Colin McCracken of Waynesburg in the semifinals, 3-2. In the finals, Brandon Kui of DePaul Catholic edged Woodley, 6-5, in the ultimate tiebreaker.
Other top finishers for the Tigers were Francis Duggan who took third place at 195 pounds and Jake Hinkson who earned a sixth place medal at 138 pounds.  Duggan defeated No. 5 Trey Hartsock of Mifflin County, 3-1, in the quarterfinals before falling to No. 2 Drew Phipps of Norwin, 3-1, in overtime in the semifinals. Hinkson finished with three decisions and a major decision.
At 285 pounds, Derek Devine didn't place but he did provide some excitement by beating No. 3-seed Dorian Fagan of Plainview (OK), 2-1, in the opening round. Devine fell just one match short of placing.
A.J. Boeh also fell one match short of placing at 145 pounds. Boeh went 5-2  and recorded four falls during the tournament. His two losses were to Shayne Oster of Lockport (IL), ranked 19th in the country, and No. 5 Keith Batkowski of Montoursville.
Other Tigers that competed at the Powerade Tournament were Jimmy Turici (0-2) at 170 pounds, Jake Smalley (0-2) at 160 pounds, Sean Kalmeyer (2-2) at 152 pounds, Will Baiel (3-2) at 132 pounds, Nick Pepe (0-2) at 120 pounds, Gabe Falo (1-2) at 113 pounds, and Jake Downing (2-2) at 106 pounds.
North Allegheny returns to section action on Wednesday night at Butler at 7:00 pm.
Powerade Wrestling Tournament Team Results
| Place | Team | Score |
| --- | --- | --- |
| 1 | Wyoming Seminary | 194 |
| 2 | Belle Vernon | 194 |
| 3 | Kiski Area | 135 |
| 4 | Pennridge | 123 |
| 5 | Reynolds | 119 |
| 14 | NORTH ALLEGHENY | 96.5 |