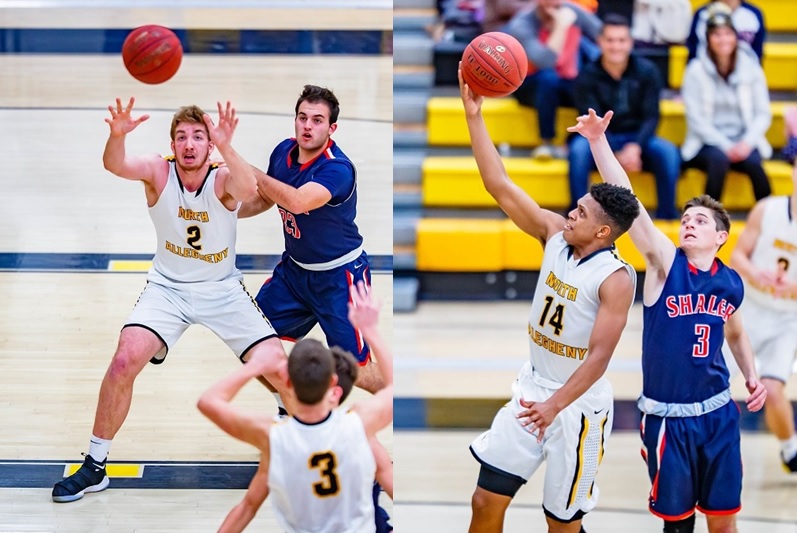 Zach Johnson, Curtis Aiken Selected To Roundball Classic
The North Allegheny boys' basketball team will have two representatives at the prestigious Roundball Classic at Geneva College next month. Senior forward Zach Johnson and senior guard Curtis Aiken will take to the hardwood as members of the WPIAL Class 6A team on Saturday, April 21. The Class 6A squad will take on the Class 5A team at 8 p.m. in the grand finale of the two-day all-star event.
The top boys and girls players from each classification in the WPIAL and City League will play in a series of all-star games on Friday, April 20, and Saturday, April 21, at Geneva College in Beaver Falls. The weekend also includes a recognition dinner for players and their families on Thursday evening.
Both Johnson and Aiken battled through injuries during the 2017-2018 season but managed to play through the pain for solid senior campaigns. Johnson, a 6-10 forward, led the Tigers in rebounding with 159 on the season and averaged 7.6 boards per game. A force in the paint, Johnson also led the team with 34 blocked shots and averaged 8.6 points per game. Johnson was recognized by the Big 56 Conference as a second-team all-section pick for Section 1-6A.
A dynamic scorer and a threat to take over a game on any night, Aiken led NA in scoring with 17.8 points per game. The 6-0 guard also paced the team with 33 steals and 35 assists. On the perimeter, Aiken tied for the team lead in 3-pointers with 26 and hit at a 35-percent clip from beyond the arc.
Congratulations to Zach Johnson and Curtis Aiken and good luck in the Roundball Classic next month.