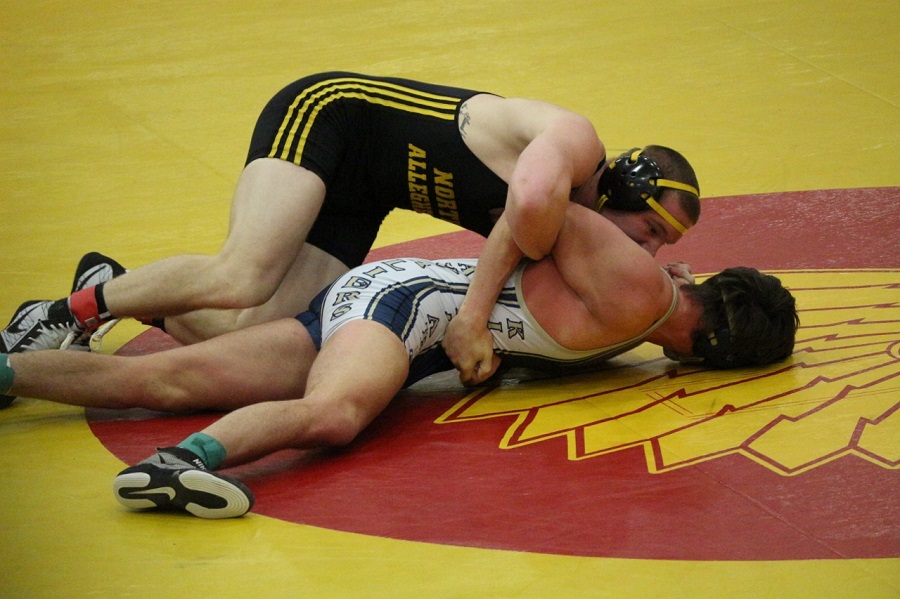 Zach Smith, Jake Hinkson Qualify For Hershey
Two North Allegheny Tigers advanced to Hershey next week with sterling performances on Saturday in the WPIAL Individual Wrestling Tournament. Senior Zach Smith earned a silver medal at 195 pounds and Jake Hinkson took fourth place at 132 to punch their tickets to the PIAA Individual Wrestling Tournament beginning on Thursday.
Smith defeated Kiski's Chad Kuhn by a 9-0 major decision in the semifinals before narrowly falling to Norwin's Drew Phipps in the championship bout, 5-3. Hinkson rolled off three straight victories on Saturday in the consolation bracket to reach the third place bout against John Ridgeway of Norwin.  Ridgeway managed a 6-2 decision in the third place bout, but Hinkson still qualifies for the PIAA tournament.
North Allegheny's Zach Stedeford (113), Sean Kalmeyer (145), Sean Hoover (152) and Jake Woodley (170) also competed on Saturday but had their trips in the consolation bracket cut short.  All North Allegheny results are listed below.  For a look at the entire Class AAA bracket, click here.
WPIAL Class AAA Wrestling Championships - Day Three
Saturday, February 28 at Penn Hills High School
| Weight | Wrestlers | Score |
| --- | --- | --- |
| 113 - Consolation | Zach Stedeford (NA) dec. Mason Schaefer (West Allegheny) | 5-1 |
| Consolation | Noah Levett (Kiski) dec. Zach Stefeford (NA) | 9-3 |
| | | |
| 132 - Consolation | Jake Hinkson (NA) maj. dec. Tyrone Brown (Connellsville) | 9-0 |
| Consolation | Jake Hinkson (NA) pinned Tommy Zummo (Plum) | 4:41 |
| Consolation | Jake Hinkson (NA) dec. Cam Reynolds (Trinity) | 4-3 |
| 3rd place | John Ridgeway (Norwin) dec. Jake Hinkson (NA) | 6-2 |
| | | |
| 145 - Consolation | Michael Risnear (Penn-Trafford) dec. Sean Kalmeyer (NA) | 3-0 |
| | | |
| 152 - Consolation | Sean Hoover (NA) dec. Noah Wright (Mars) | 2-1 TB |
| Consolation | Derek Verkleeren (Belle Vernon) dec. Sean Hoover (NA) | 4-2 |
| | | |
| 170 - Consolation | Jake Woodley (NA) dec. Derrin Deitz (Fox Chapel) | 4-0 |
| Consolation | Jake Woodley (NA) dec. Vinny Romano (Kiski) | 4-2 |
| Consolation | Brooks Wilding (Upper St. Clair) dec. Jake Woodley (NA) | 7-5 |
| | | |
| 195 - Semifinal | Zach Smith (NA) maj. dec. Chad Kuhn (Kiski) | 9-0 |
| Championship | Drew Phipps (Norwin) dec. Zach Smith (NA) | 5-3 |