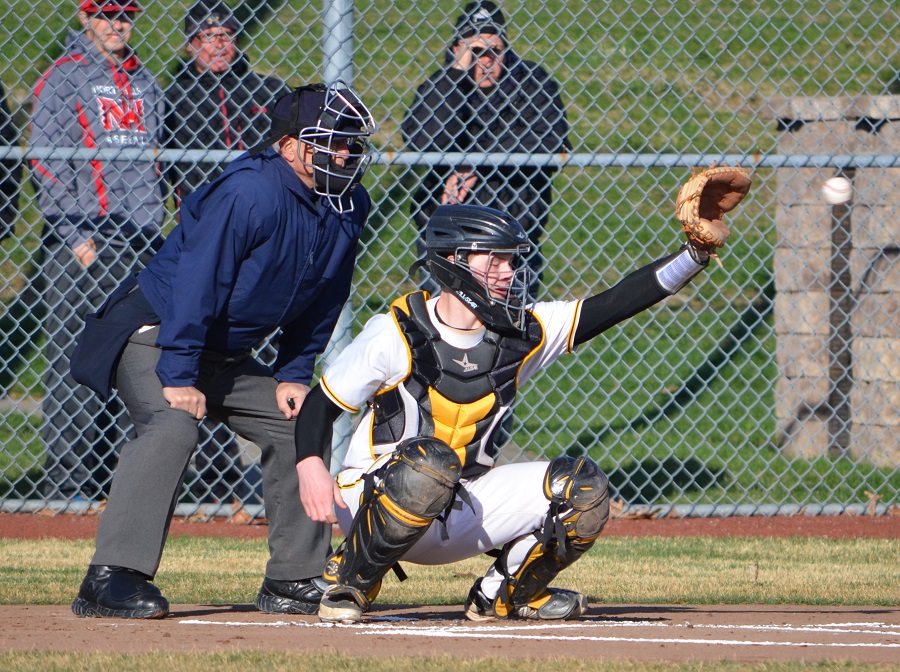 NA Baseball Splits Twin Bill
The North Allegheny Baseball Team split a day-night doubleheader on Saturday from NASH Field.  The Tigers fell in game one, 3-2, to the Plum Mustangs.  In game two, NA topped the Mt. Lebanon Blue Devils, 6-1.
The Tigers held a 2-0 lead in the opening game of the twin bill, but the Mustangs tied the game in the fourth inning with a pair of runs and scored the go ahead run in the fifth to claim the victory. Nick Stotler, Dante Palmieri, and Zach Sansonetti all drove in runs for the Mustangs.  Nick Gross (1-1) pitched well but was the hard luck loser for the Tigers, allowing only one earned run in a complete game effort.
The Tigers received more terrific pitching in game two as sophomore Trevor Smith (1-0) tossed five shutout innings and punched out eight batters for his first victory of the season.  Senior Dan Bergeron surrendered only one unearned run in two innings of relief to secure the 6-1 win. Offensively, Mitch Machi delivered a 3 for 3 day with two RBI. Dan Trettel was 2 for 2 with two doubles and a pair of RBI and Ryan Hamm posted a 2 for 3 evening with two RBI.
Following the doubleheader, North Allegheny now sits at 8-3 overall. The Tigers visit Shaler on Monday at 3:30 pm.
Line Score - NA Baseball vs. Plum, 4/19/14
| Score by Innings | 1 | 2 | 3 | 4 | 5 | 6 | 7 | | R | H | E |
| --- | --- | --- | --- | --- | --- | --- | --- | --- | --- | --- | --- |
| Plum | 0 | 0 | 0 | 2 | 1 | 0 | 0 | | 3 | 7 | 3 |
| North Allegheny | 1 | 0 | 1 | 0 | 0 | 0 | 0 | | 2 | 3 | 2 |
WP - Zachary Nolan LP - Nick Gross (1-1)
***********
Line Score - NA Baseball vs. Mt. Lebanon, 4/19/14
| Score by Innings | 1 | 2 | 3 | 4 | 5 | 6 | 7 | | R | H | E |
| --- | --- | --- | --- | --- | --- | --- | --- | --- | --- | --- | --- |
| Mt. Lebanon | 0 | 0 | 0 | 0 | 0 | 0 | 1 | | 1 | 7 | 0 |
| North Allegheny | 0 | 2 | 3 | 0 | 1 | 0 | X | | 6 | 11 | 0 |
WP - Trevor Smith (1-0) LP - Eaton