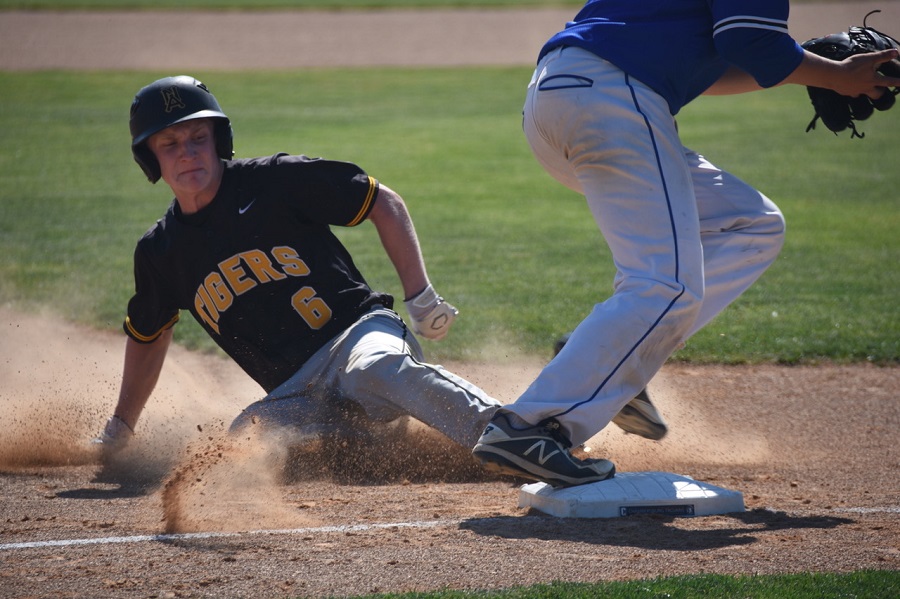 Student-Athlete Profile: Senior Ryan Dougherty
Like most programs at North Allegheny, the NA baseball program has a strong winning tradition that includes seven WPIAL and two PIAA championships. In recent years, one of the Tigers top big-game performers has been their diminutive left fielder, senior Ryan Dougherty.
Playing in 36 games over the past two seasons, the 5'7", 160-pounder has posted a career batting average of .302, with 17 RBI, 26 runs scored, 11 stolen bases and an on base percentage nearing .500. While his numbers are good, it's Dougherty's performance when the lights shine the brightest is what is most impressive. Of his 17 career RBI, seven have come in the playoffs.
"I like the atmosphere and the situation that you're in," said Dougherty of playing in the postseason. "You have so many fans cheering you on and the whole team is around you for that one moment."
After a season on the freshman team in 2017, Dougherty played most of the 2018 campaign on the JV squad. However, a hot streak at the plate prompted the coaching staff to bring Dougherty along for a late-season call-up. In his varsity debut against Howland on May 5, 2018, Dougherty went 1-for-3 with an RBI double and two runs scored.
Over the final four games of the regular season, Dougherty continued his torrid hitting and got the start in left field for NA's WPIAL first round matchup against Penn-Trafford. Against two-time all-section hurler Tyler Horvat, now a freshman at W&J, Dougherty delivered a crucial two-run double in the third inning that sparked a 6-0 victory over the Warriors.
"Producing at that level and at the moment was incredible. I just treated it like a normal game.
"I think (the win over Penn-Trafford) really helped our team build momentum in the playoffs. We didn't have the greatest of regular seasons but we all put that aside and thought of the playoffs as a new season. It was great to start the playoffs on that note."
The triumph over Penn-Trafford propelled North Allegheny to an upset of second-seeded Bethel Park in the quarterfinals and a come-from behind victory over Hempfield in the semifinals. In the WPIAL championship game against Canon-McMillan, Dougherty smacked an RBI triple against Zach Rohaley, now at Cal-U, for NA's only run in a 2-1 defeat to the Big Macs.
As a junior in 2019, Dougherty struggled through a sore shoulder that he sustained during an awkward swing against Upper St. Clair in the fifth game of the season. By season's end, however, Dougherty returned to full health and was ready to contribute for another lengthy postseason run for the Tigers.
In the WPIAL quarterfinals, Dougherty's two-run single in the fifth inning provided what proved to be the game-winning runs in a 4-2 win over Butler. Against McDowell in the opening round of the state playoffs, Dougherty chipped in with a two-run single during a 10-2 blowout of the Trojans and he came through again with a pair of hits in a 4-1 PIAA quarterfinal victory over archrival Pine-Richland at La Roche University.
"I just remember standing in left field and watching all the fans on that hill at La Roche. It was amazing seeing all of them cheer after we won that game (against Pine-Richland)."
Despite building a 6-2 lead over Central Bucks South in the PIAA semifinals, North Allegheny saw a late lead slip away in the state's Final Four. While the loss was disappointing, it didn't take away from another great season for Dougherty and the Tigers.
"As the season went on, we started building a bond and the playoffs were a great part of that, especially the state playoffs. We started trusting one another. We came a little short of our goal but I feel like we really came together as one."
Individually, Dougherty was recognized by the Big 56 Conference for his excellent season as he was named an honorable mention to the all-section team.
Described as a silent leader by the North Allegheny coaches, the unassuming Dougherty leads by his play on the field. Due to Dougherty's slight stature, he plays with an increased desire to dispel false rumors that he may be too small to compete.
"I like taking on that role. I'm one of the smaller kids on the team. I use my height as motivation."
Next season, Dougherty will go from one winning baseball program to another at Allegheny College in Meadville, PA. The Gators have posted 20 wins or more in six of the last seven seasons. At Allegheny, Dougherty will be reunited with former NA teammates Brett Heckert and Roman Santia. Other former Tigers that have played at Allegheny include Jeff Dassner (2010-2013) and Keegan Phillips (2017-2020).
"I'm very eager (to play for Allegheny). I feel like North Allegheny has built me up with a competitive mindset. I'm hungry to work this offseason and hope to contribute as soon as I step on campus."
Dougherty will major in Business Economics with a minor in Mathematics at Allegheny College.