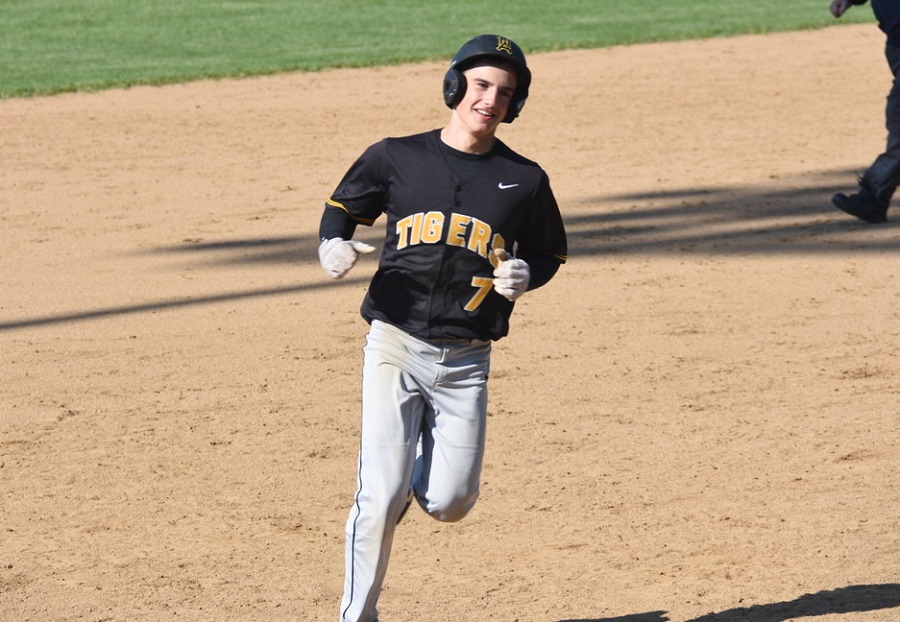 NA Overpowers McDowell For PIAA 1st Round Win, 10-2
By Jonathan Spina
The Tigers offense came to life on Monday behind two Cole Young home runs with a 10-2 win against McDowell to advance to the PIAA Quarterfinals. All nine starters reached base for North Allegheny and 11 players total reached. It was a rematch of last season's PIAA first round match up also won by North Allegheny.
North Allegheny got things rolling right from the start when in the top of the first CJ Weller led the game off with a single and Young walked. After a pair of strikeouts, Ryan Dougherty had a big two-out RBI single, and Anthony Hattrup helped his own cause before he even stepped on the mound by also hitting a two-out RBI single and North Allegheny was up 2-0 before they even went into the field.
McDowell got on the board in the bottom of the second when Chris Juncho hit a leadoff solo homerun to right center. The Trojans followed with back-to-back singles and it looked like the momentum had shifted. Hattrup, however, was able to settle down by getting a strikeout and then a double play and the inning was over with the Tigers leading, 2-1.
North Allegheny got the run right back in the top of the third when Jared Orwell led off the inning with a walk, followed by a perfectly placed bunt by Logan Andreyko for a single. Dougherty walked to load the bases and Cam Medic got an easy RBI by walking to score Orwell. Shane Murphy then had and RBI single and NA went into the bottom of the third with a 4-1 lead.
In the fourth inning North Allegheny pulled away by scoring four runs in the inning. It all started with a Young double, followed by an Orwell walk and another perfect Andreyko bunt to load the bases. Hattrup once again helped his own cause hitting a two RBI double into the right centerfield gap. Medic had an RBI fielder's choice and Murphy then had a two RBI double, and after four innings the Tigers had opened the lead to 8-1.
In the fifth, Young hit his second homerun of the season to right centerfield as the ball hit off the top of the fence and went over to give North Allegheny a 9-1 lead. McDowell got a run in the sixth and then in the seventh Young hit a no doubter to right field to give the Tigers a 10-2 lead. Murphy pitched a scoreless seventh and North Allegheny advanced in the PIAA playoffs with a 10-2 win.
Hattrup picked up his sixth win of the season going five innings allowing four hits, one run, struck out five and hit a batter, he was also 2 for 4 with three RBIs. Andreyko was 2 for 5 and Murphy was 2 for 4 with two RBIs to go along with a scoreless inning pitch.
Young was the Wright Automotive Player of the Game going 3 for 3 with a double, two homeruns, two RBIs, a walk, got hit by a pitch and scored four times.
McDowell finishes their season at 17-5. The Tigers improve to 18-6 and will advance to the PIAA quarterfinals where they will play a familiar foe in Pine-Richland on Thursday at a site and time to be determined. This game will be broadcasted right here on the North Allegheny Sports Network.
Box Score - Baseball vs. McDowell - 06/03/2019
| Score by Innings | 1 | 2 | 3 | 4 | 5 | 6 | 7 | R | H | E |
| --- | --- | --- | --- | --- | --- | --- | --- | --- | --- | --- |
| North Allegheny | 2 | 0 | 2 | 4 | 1 | 0 | 1 | 10 | 11 | 0 |
| McDowell | 0 | 1 | 0 | 0 | 0 | 1 | 0 | 2 | 5 | 0 |
WP - Anthony Hattrup (6-1) LP - Clark (1-1)