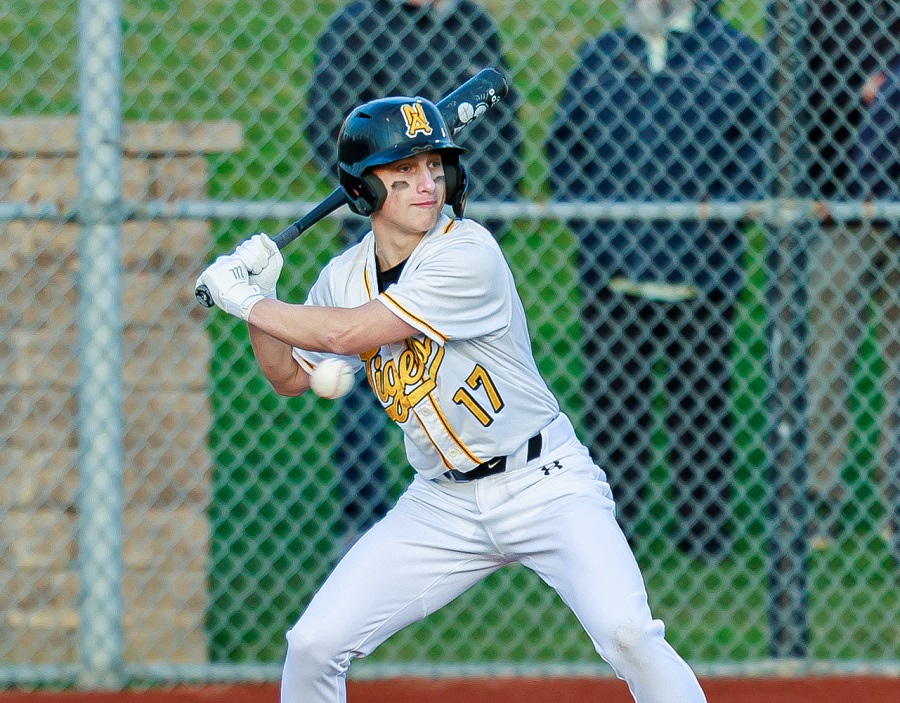 NA Upended By Upper St. Clair in WPIAL Quarterfinals
North Allegheny's quest for a ninth WPIAL title came to end on Monday evening with a 5-1 extra innings loss to Upper St. Clair at Shaler's Matulevic Field. The seventh-seeded Panthers upset the second-seeded Tigers on the strength of four-run eighth inning in the WPIAL Class 6A quarterfinals.
Against Upper St. Clair starter Joe Altvater, North Allegheny scratched across the game's first run in the bottom of the second inning when Harron Lee drove in Spencer Barnett on a sacrifice fly for a 1-0 lead.
North Allegheny starter Connor Smith had another strong outing and retired the first nine batters he faced and didn't allow a hit until the fifth inning. Smith extended his scoreless innings streak to 28.2 consecutive innings before USC scored an unearned run in the top of the sixth. An NA throwing error opened the door for a sacrifice fly by Mateo Cepullio in the sixth, tying the score at 1-1.
It appeared the Tigers might quickly reclaim the lead by loading the bases with one out in the bottom of the sixth. However, Altvater wiggled out of the jam by inducing an inning ending double play to keep the game tied, 1-1.
The score remained deadlocked until USC broke through for a four-run top of the eighth. The Panthers took the lead on a bases loaded walk by Jack Shearer and increased the advantage to 4-1 on a two-run single by Ty Lagoni. Brandon Liokareas added a bases loaded walk to drive in an additional run for a 5-1 lead for the Panthers.
Altvater capped his complete game effort by tossing a scoreless bottom of the eighth to close out the upset win for the Panthers. Making a spot start, Altvater allowed one unearned run with three walks and eight strikeouts to earn the victory.
For North Allegheny, Smith was outstanding despite a no-decision, permitting only one unearned run, and two hits and with two walks and seven strikeouts. Barnett took the loss, surrendering four runs in 0.1 of an inning, and senior right hander Jack Baumgartel pitched 0.2 of scoreless relief.
An exceptional defensive effort was turned in by junior Andrew Dougherty, who made a diving catch in right field and a fine running catch in the gap in the seventh inning. Capping a great run at North Allegheny, including a WPIAL championship in 2021, seniors Baumgartel, Smith, Caden Suba, Cole Young, Liam Woodworth, Erik Sundgren, Aaron Galaska, Brady Quatman and Aaron Posey were named the Wright Automotive Players of the Game.
Upper St. Clair improves to 11-8 overall and will face Butler on Tuesday in the WPIAL semifinals. North Allegheny's season ends with a 15-6 record. Congratulations to head coach Andrew Heck and the entire North Allegheny baseball team for another memorable season.
Line Score - Baseball vs. Upper St. Clair - 05/23/2022
| Score by Innings | 1 | 2 | 3 | 4 | 5 | 6 | 7 | 8 | R | H | E |
| --- | --- | --- | --- | --- | --- | --- | --- | --- | --- | --- | --- |
| Upper St. Clair | 0 | 0 | 0 | 0 | 0 | 1 | 0 | 4 | 5 | 4 | 2 |
| North Allegheny | 0 | 1 | 0 | 0 | 0 | 0 | 0 | 0 | 1 | 6 | 1 |
WP - Joe Altvater LP - Spencer Barnett (0-2)