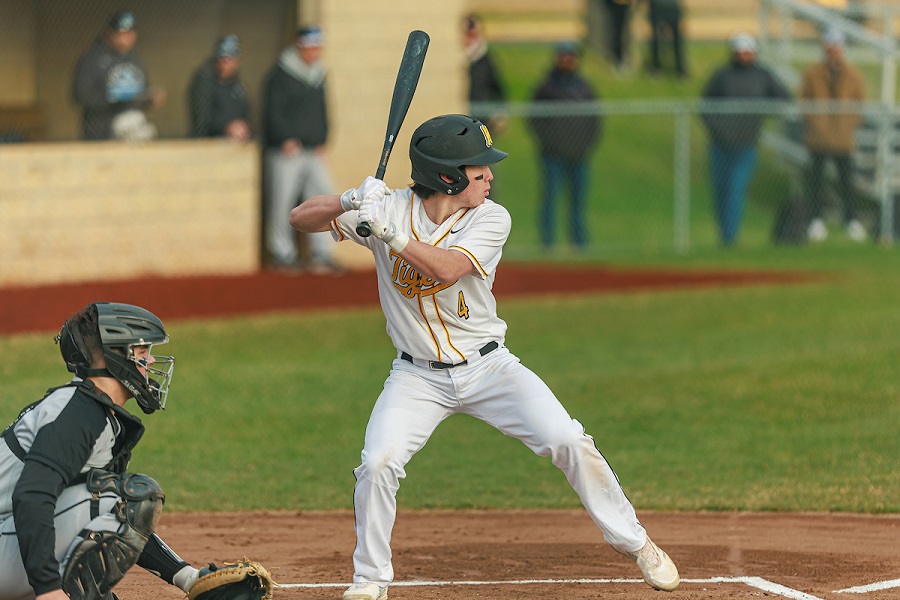 Central Catholic Edges North Allegheny, 2-1
An RBI single by Mario Misiti with the bases loaded in the bottom of the seventh helped Central Catholic earn a 2-1 walk-off win over North Allegheny at the No Offseason Sports Complex on Wednesday afternoon.
Involved in a tight contest for the second consecutive game, North Allegheny fell behind 1-0 in the bottom of the first inning when Gavin Kelly led off with a triple and scored moments later on an RBI single from Brendan Koroly.
The Tigers tied the game at 1-1 in the top of third inning thanks to a two-out RBI single by Aaron Posey that scored Harron Lee. The game remained tied until Misiti's walk-off hit in the bottom of the seventh.
Despite a strong effort by both starting pitchers on the afternoon, neither Connor Smith nor Nick Robertson factored in the decision. Smith scattered nine hits in 5.2 innings for North Allegheny and allowed only one run with three walks and two strikeouts. Robertson struck out eight batters for Central Catholic in 6.2 innings and permitted only one run on six hits and walked a pair.
The winning hurler was James Hensel who recorded the final out in the top of the seventh and left two runners stranded. North Allegheny reliever Andrew Hart took the loss with 1.1 innings on the bump, allowing one run on two hits with one strikeout and two walks.
North Allegheny falls to 5-3 overall and 3-2 in Section 1-6A, while Central Catholic improves to 5-5 overall and 3-2 in the section. The Tigers will try for a series split with the Vikings on Thursday evening at 7:00 p.m. Weather permitting, the game will be broadcast live by the North Allegheny Sports Network.
Line Score - Baseball vs. Central Catholic - 04/20/2022
| Score by Innings | 1 | 2 | 3 | 4 | 5 | 6 | 7 | R | H | E |
| --- | --- | --- | --- | --- | --- | --- | --- | --- | --- | --- |
| North Allegheny | 0 | 0 | 1 | 0 | 0 | 0 | 0 | 1 | 6 | 0 |
| Central Catholic | 1 | 0 | 0 | 0 | 0 | 0 | 1 | 2 | 11 | 0 |
WP - James Hensel (2-0) LP - Andrew Hart (0-1)