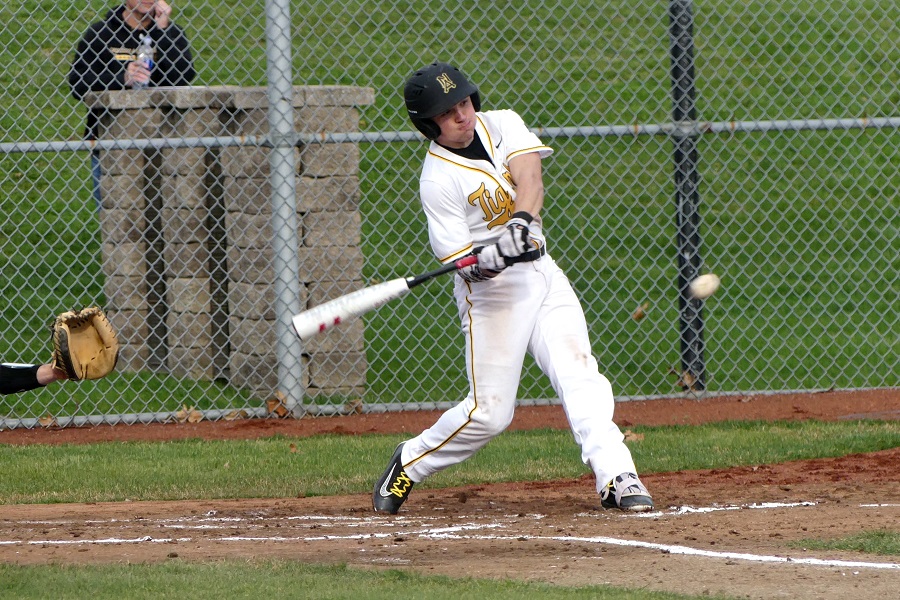 Comeback Cats Claw Past Canon-Mac, 4-3
North Allegheny fell behind Canon-McMillan in the first inning, 3-0, but staying true to early-season form the Tigers rallied from behind to claim a 4-3 victory over the Big Macs on Thursday afternoon. Senior Alex Mesaros went 3 for 3 at the plate and scored the game-winning run on a Canon-Mac error in the bottom of the sixth inning.
Despite a three-run first inning by Canon-McMillan, the Tigers pitching staff held the Big Macs in check for the remainder of the game. The North Allegheny bullpen was called upon early as relievers Kevin Janosko and Anthony Hattrup combined for 6.2 innings of scoreless baseball. Hattrup pitched the final two innings and struck out four batters to earn the victory. The win was Hattrup's second of the season.
With Canon-McMillan's lineup silenced, the Tigers chipped away with one run in the second inning courtesy of a Jack Lehew ground ball that scored Mesaros, cutting the score to 3-1. North Allegheny crept closer in the fifth inning thanks to a Bobby Brown sacrifice fly that plated Lehew, trimming the CM advantage to 3-2.
In the bottom the sixth, North Allegheny's Juliano Capretta led off with a pinch-hit double and was replaced by pinch-runner Brett Loughner. Mesaros followed with a single to put runners at first and third. An out later, Brett Heckert walked to load the bases. Andrew Turzai's fielder's choice groundball scored Loughner from third and the game was tied, 3-3. After a shallow fly out by Lehew kept the bases loaded, Ben Surman hit a bounding ball that was booted by the CM first baseman, allowing Mesaros to trot home and give the Tigers a 4-3 lead. Hattrup made sure their one-run lead stood with a clean top of the seventh on the mound.
Following the non-section win, North Allegheny jumps to 3-0 on the season, while Canon-McMillan drops to 1-4 overall. The Tigers are slated to host Penn-Trafford this afternoon, weather permitting.
Baseball vs. Canon-McMillan, 3-30-17
| Score by Innings | 1 | 2 | 3 | 4 | 5 | 6 | 7 | | R | H | E |
| --- | --- | --- | --- | --- | --- | --- | --- | --- | --- | --- | --- |
| Canon-McMillan | 3 | 0 | 0 | 0 | 0 | 0 | 0 | | 3 | 5 | 1 |
| North Allegheny | 0 | 1 | 0 | 0 | 1 | 2 | X | | 4 | 8 | 1 |
WP - Anthony Hattrup (2-0) LP - Coyle