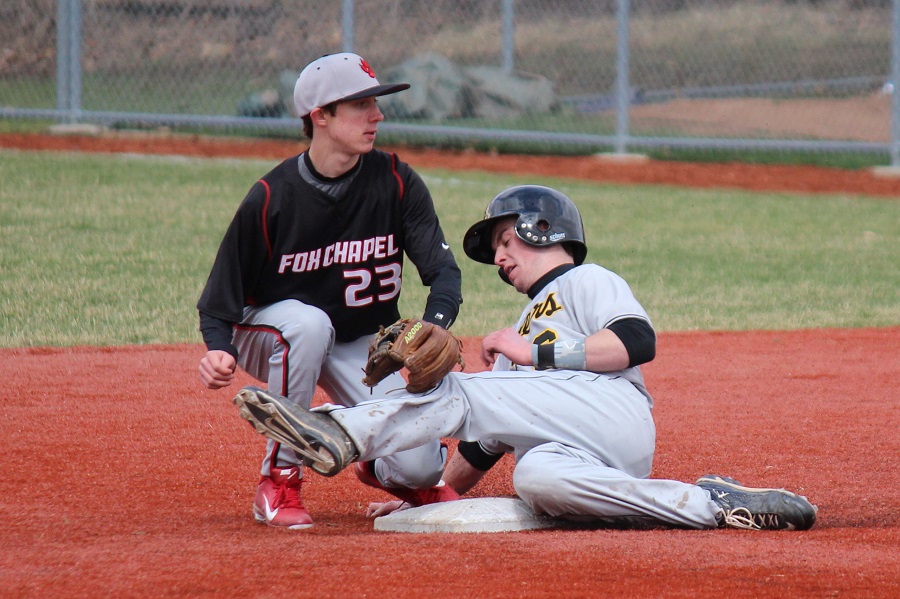 Fox Chapel Scores Two In Seventh For Walk-Off Win Over Tigers
After pulling out a come-from-behind win in walk-off fashion earlier in the week against Norwin, the Tigers were on the opposite end of a walk-off celebration on Tuesday afternoon as Fox Chapel rallied for a 5-4 win over North Allegheny in a non-section contest. Trailing 4-3 in the bottom of the seventh, Fox Chapel tied the game on an NA error and won it, 5-4, on an RBI single by Josh Dunlap.
The Tigers got off to a great start with a four-run first inning. A Daniel McCauley RBI single, a Chris Vrana RBI double, and two Fox Chapel errors helped North Allegheny build a 4-0 lead. McCauley had a nice day at the plate with a 3 for 3 performance and two doubles. Junior Liam Dalbow reached base three times with three walks and scored a run for the Tigers. However, North Allegheny's quick start was not indicative of the game's final outcome as the Foxes chipped away at the Tigers lead with two runs in the first inning, one in the fifth, and two more in the bottom of the seventh to cap the comeback win.
On the mound, Jake Fischbaugh got the start for North Allegheny and pitched four innings, giving up two runs while striking out five and walking none. Trevor Smith pitched in relief and suffered the loss, surrendering three runs (one earned) in 2.2 innings of work. Fox Chapel's Michael Marsico picked up the victory in relief with two scoreless innings. Starter Patrick Monteverde was sluggish for the Foxes, giving up four runs (three earned) in five innings with four strikeouts and five walks.
Following the loss, North Allegheny slips to 3-2 overall while Fox Chapel improves to 2-3 overall. The Tigers resume action Wednesday afternoon with a home contest against the Gateway Gators in another non-section affair.  First pitch is slated for 4:00 pm.
Line Score - NA Baseball vs. Fox Chapel, 3/31/15
| Score by Innings | 1 | 2 | 3 | 4 | 5 | 6 | 7 | | R | H | E |
| --- | --- | --- | --- | --- | --- | --- | --- | --- | --- | --- | --- |
| North Allegheny | 4 | 0 | 0 | 0 | 0 | 0 | 0 | | 4 | 9 | 2 |
| Fox Chapel | 2 | 0 | 0 | 0 | 1 | 0 | 2 | | 5 | 8 | 2 |
WP - Michael Marsico LP - Trevor Smith (0-1)