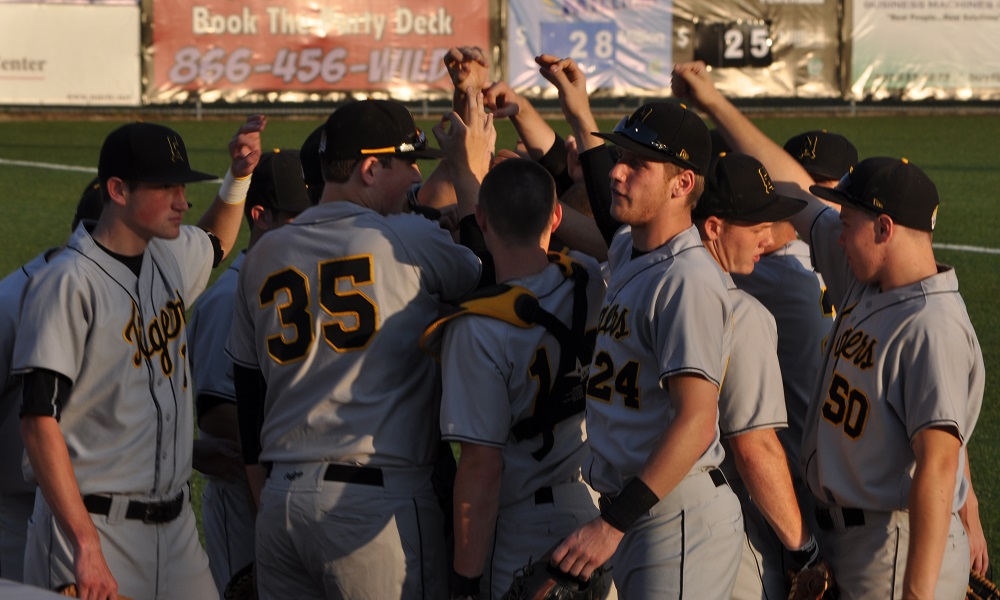 Lower Dauphin Tops NA On Home Run in Tenth, 1-0
(6/11/13) Jake Shellenberger hit a walk-off home run over the left field fence to leading off the tenth inning, catapulting Lower Dauphin into the state title game with a 1-0 win over North Allegheny. Both starting pitchers, Blair Lewis for Lower Dauphin and Jason Monperfor North Allegheny, were terrific on the day, matching each other with scoreless frames through nine innings.
Each hurler danced their way out of trouble in the late innings, with Monper getting out of bases loaded jams in the seventh, eighth, and ninth, all with the winning run on third base for Lower Dauphin. In the seventh, the Falcons loaded the bases with one out, but Monper induced a 1-2-3 double play from Luke Lingle to extend the game to extras. The next inning, the Tigers' infield was drawn in with the bases loaded and one out. Kaylor Kulina, hitting second for the Falcons, smacked a sharp grounder to second. JT Zeitler threw home to catcher Justin Dattilo, who then pivoted and threw a strike toJames Meeker at third for an unconventional 4-2-5 double play. Marshall Kiessling flew out to Sean Fitzgerald in right for the third out of the inning.
In the ninth, North Allegheny nearly took the lead after Matt Waugaman drilled a two-out, two-strike pitch off the right center field fence. After the ball rolled away from centerfielder Jeff Light, Waugaman tried to stretch his triple into an inside-the-park home run, but he could not beat the relay throw from the outfield.
Monper once again tiptoed out of danger in the bottom of the ninth, leaving the bases loaded again, recording back-to-back strikeouts to end the frame. For his efforts on the mound, he was awarded the Wright Automotive Player of the Game.
North Allegheny concludes its season with a 22-5 record. The Tigers earned their first WPIAL championship and first appearance in the state semifinals since 2009.
---
Box Score - Baseball vs. Lower Dauphin - 06/11/2013
Lower Dauphin - 1 North Allegheny - 0 (10 Innings)
WP - Marshall Kiessling LP - Tyler Saundry (0-1)
| Score by Innings | 1 | 2 | 3 | 4 | 5 | 6 | 7 | 8 | 9 | 10 | R | H | E |
| --- | --- | --- | --- | --- | --- | --- | --- | --- | --- | --- | --- | --- | --- |
| N. Allegheny | 0 | 0 | 0 | 0 | 0 | 0 | 0 | 0 | 0 | 0 | 0 | 6 | 0 |
| Lower Dauphin | 0 | 0 | 0 | 0 | 0 | 0 | 0 | 0 | 0 | 1 | 1 | 9 | 0 |