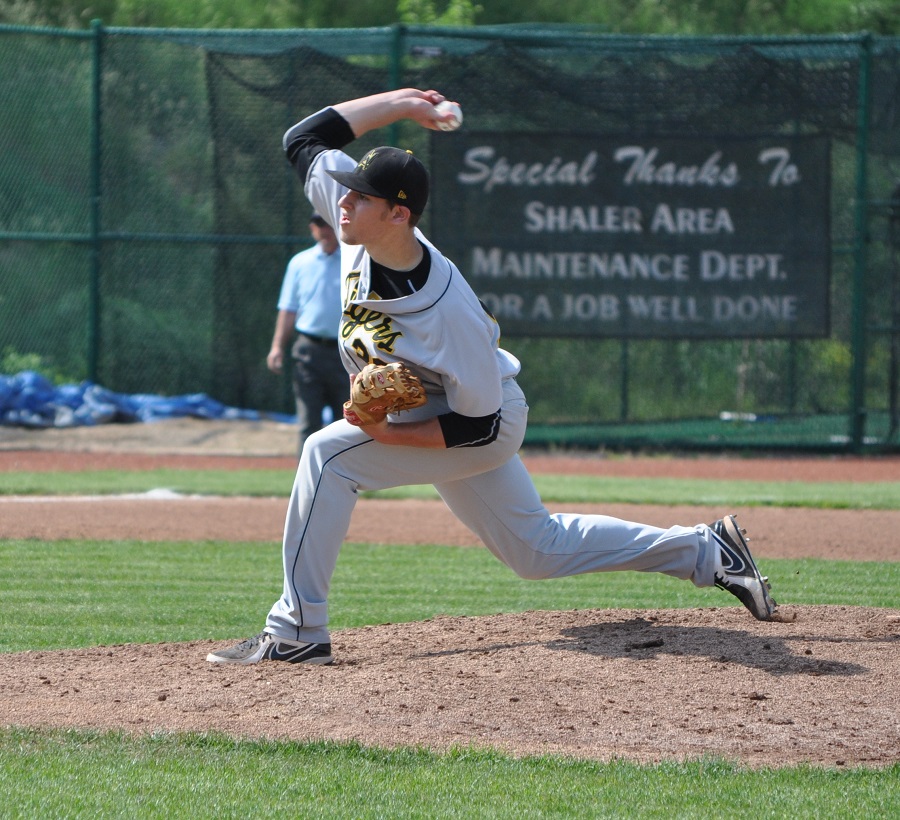 Machi Homers, Pitches NA Past Latrobe
Senior Mitch Machi hit a two-run homer and pitched four solid innings for the win, helping North Allegheny to a season opening 7-1 victory at Latrobe on Thursday afternoon.  The Tigers waited awhile before taking the field this spring and Machi and his teammates took out their winter frustration on the Wildcats.
Machi finished with a 2 for 3 performance at the plate with two runs scored and two RBI's.  Earning the start as well, Machi allowed one earned run in his four innings of work and improves his career record to 12-2. Senior Tyler Saundry pitched the final three innings for the save, allowing just one hit while striking out five and walking none.
The Tigers took a 1-0 lead in the top of the first inning on a Brandon Rossier RBI single to right, and added two more runs in the second inning on Machi's line drive homer to left. Latrobe cut the score to 3-1, Tigers, when junior Seth Holler scored on a fielder's choice ground ball from Ray Levay in the bottom of the fourth inning.
Limited to four hits on the day, Latrobe couldn't muster any more offense and North Allegheny put the game on ice with a run in the sixth and three more in the seventh. Rossier had as many hits as Latrobe, going 4 for 4 with two doubles and two RBI's.  Blake Young and Chris Vrana added an RBI each for NA in the win.
North Allegheny hopes to add another win to its tally with a home contest against Mt. Lebanon on Friday at 4:00 pm. Latrobe falls to 1-1 overall and will host Altoona on Friday afternoon.
Line Score - NA Baseball vs. Latrobe, 3/27/14
| Score by Innings | 1 | 2 | 3 | 4 | 5 | 6 | 7 | | R | H | E |
| --- | --- | --- | --- | --- | --- | --- | --- | --- | --- | --- | --- |
| North Allegheny | 1 | 2 | 0 | 0 | 0 | 1 | 3 | | 7 | 14 | 0 |
| Latrobe | 0 | 0 | 0 | 1 | 0 | 0 | 0 | | 1 | 4 | 1 |
WP - Mitch Machi (1-0) LP - Jonathan Kolling SV - Tyler Saundry (1)