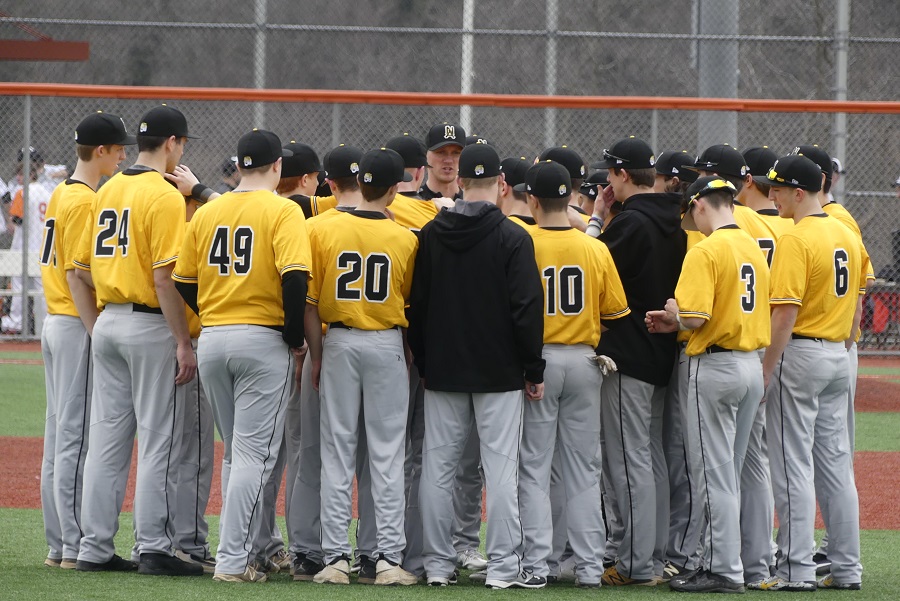 Memorable 2017 Season Is One For the Record Books
In reaching the state playoffs and the WPIAL championship game for the seventh time since 2003, the North Allegheny baseball team carved out a spot in the program record book under first-year head coach Andrew Heck. Among the team achievements celebrated by the 2017 Tigers, there were several sterling individual highlights.
Tops on that list was the season-long performance by senior pitcher Danny Caropresi. The right-handed hurler dazzled with an ERA of 0.60 in 10 appearances, the third best in program history behind only Justin Stark who posted a 0.26 ERA in 2005 and Don Clawson who tallied a 0.40 ERA in 1986. Caropresi produced a 4-2 record in nine starts and struck out 34 batters in 46.1 innings.
Fellow senior pitcher Bobby Brown made 11 appearances last spring, among the most ever in a single-season. The all-time mark is held by Greg Piehler who made 14 appearances during the 2009 season. The ace of the pitching staff, Brown consistently delivered big-game outings for the Tigers and completed the year with a 5-2 record and 1.90 ERA.
One of the best single-day performances from a Tigers pitcher came from southpaw Kevin Janosko who tossed a five-inning no-hitter on April 5 during an 11-0 win over Penn Hills. Pitching mostly out of the bullpen this season, Janosko posted a 2-1 mark with a 0.66 ERA and 21 strike outs in 21.1 innings.
The WPIAL runners-up produced numerous award winners at season's end. Named Big 56 Conference first-team All-Section 1 in Class 6A were Brown, Alex Mesaros and Luke Trueman. Pitching and defense were staples of the 2017 Tigers and all three first-team selections were indicative of that. Along with Brown's pitching and hitting at the DH spot, Mesaros was a reliable glove at shortstop and Trueman raced down fly balls with his outstanding speed in the outfield. Offensively, Mesaros scored a team-best 17 runs, along with 10 RBI's and a home run. In the leadoff spot, Trueman reached base often with a team-high .364 average to go along with a home run, 10 RBI's and 14 runs scored.
Infielder Colin Cain was a Big 56 Conference second-team pick with a .270 average, seven RBI, 14 runs scored and a team-leading 18 base on balls. Garnering all-section honorable mention recognition were Caropresi (RHP), Justin Hamm (INF), Caiden Wood (INF), Jack Lehew (OF), Alec Whipkey (C) and Andrew Turzai (DH).
The efforts of all of these players aided the Tigers during a memorable 2017 season. North Allegheny finished the year with a 17-8 record, including an appearance in the WPIAL championship game and state playoffs.