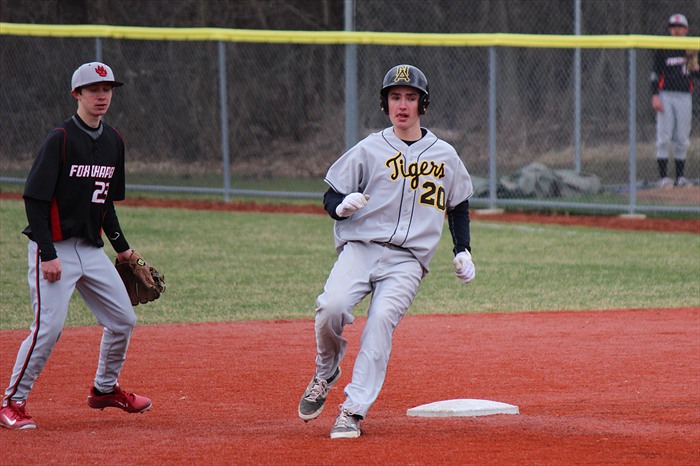 Mt. Lebanon Escapes NA With 3-1 Win In 8 Innings
North Allegheny received a strong starting pitching performance from Blaise Smiley, but Mt. Lebanon managed three late runs for a 3-1 win in extra innings. Smiley held Mt. Lebanon in check during his five innings on the mound, surrendering just one run on one hit.  The senior hurler struck out six Blue Devils and received a no-decision.
The Tigers scored their first and only run of the game in the first inning when Chris Vrana crossed the pay station on a Mt. Lebanon throwing error to take a 1-0 lead.  While North Allegheny mustered very little offense the rest of the way, it appeared the Tigers' lone run might stand thanks to Smiley's effort on the bump.
However, seven NA errors eventually caught up with the black and gold as a throwing miscue helped produce the game tying run for Mt. Lebanon in the sixth inning, and the Tigers' seventh error was part of a two-run Blue Devils' eighth inning. Ben Marsico suffered the loss, allowing two runs, one earned, in three innings of relief.
North Allegheny slips to 2-1 overall on the season while Mt. Lebanon evens its record at 1-1.  The Tigers return to action this afternoon against Fox Chapel at 4:00 pm.
Line Score - NA Baseball vs. Mt. Lebanon, 3/24/15
| Score by Innings | 1 | 2 | 3 | 4 | 5 | 6 | 7 | 8 | | R | H | E |
| --- | --- | --- | --- | --- | --- | --- | --- | --- | --- | --- | --- | --- |
| Mt. Lebanon | 0 | 0 | 0 | 0 | 0 | 1 | 0 | 2 | | 3 | 3 | 2 |
| North Allegheny | 1 | 0 | 0 | 0 | 0 | 0 | 0 | 0 | | 1 | 4 | 7 |
WP - Stocker LP - Ben Marsico (0-1)