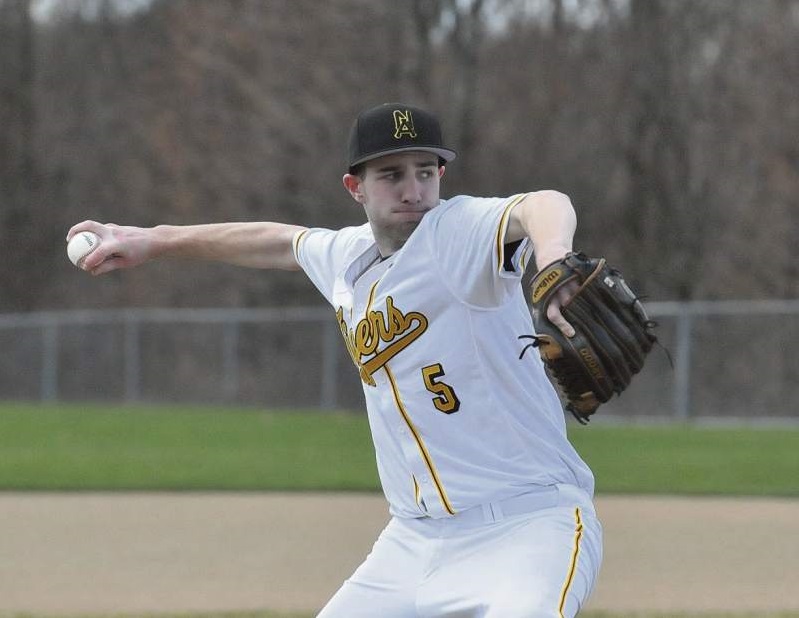 NA 7th-Inning Rally Falls Short, Lose to Rams
By John Lydic
Just as it was in the first meeting of the year, Pine Richland and North Allegheny were locked in a pitching duel. Pine Richland used a four run fifth inning to hold off North Allegheny for a 4-3 victory. Pine Richland's Thomas Zybinski allowed three runs over 6.1 innings while striking out eight Tigers. Hunter Treece picked up the save over .2 of an inning striking out both batters he faced. North Allegheny's Jake Fischbaugh took the loss giving up four runs over six innings while striking out nine.
Pine Richland got the scoring started in the fith after Nick Haas started the inning with a double and would score the first run of the inning for the Rams on a Ty Yoklic single. Pine Richland added three more runs on a single by Jesse Meckler and a double by Tim Laylock.
North Allegheny bats were held quiet until the seventh when Ben Marsico drew a leadoff walk. That was followed up by a Bobby Brown single to put runners on first and second. A triple by Dan McCauley cut the Rams lead in half scoring both. McCauley then scored on a passed ball by Rams' Tyler Woodrow. Pine Richland's Treece closed the game by striking out the last two North Allegheny batters.
North Allegheny drops to 9-7 overall and 4-4 in section with the loss. Pine Richland now 11-4 overall and 5-3 in section, moved into second place after a Butler loss. The Tigers travel Seneca Valley today at 4:00 pm.
(Photo courtesy of the Tribune Review).
Baseball vs. Pine-Richland, 4-27-16
| Score by Innings | 1 | 2 | 3 | 4 | 5 | 6 | 7 | | R | H | E |
| --- | --- | --- | --- | --- | --- | --- | --- | --- | --- | --- | --- |
| Pine-Richland | 0 | 0 | 0 | 0 | 4 | 0 | 0 | | 4 | 6 | 0 |
| North Allegheny | 0 | 0 | 0 | 0 | 0 | 0 | 3 | | 3 | 5 | 1 |
WP -Thomas Zybzinski LP - Jake Fischbaugh SV - Hunter Treece