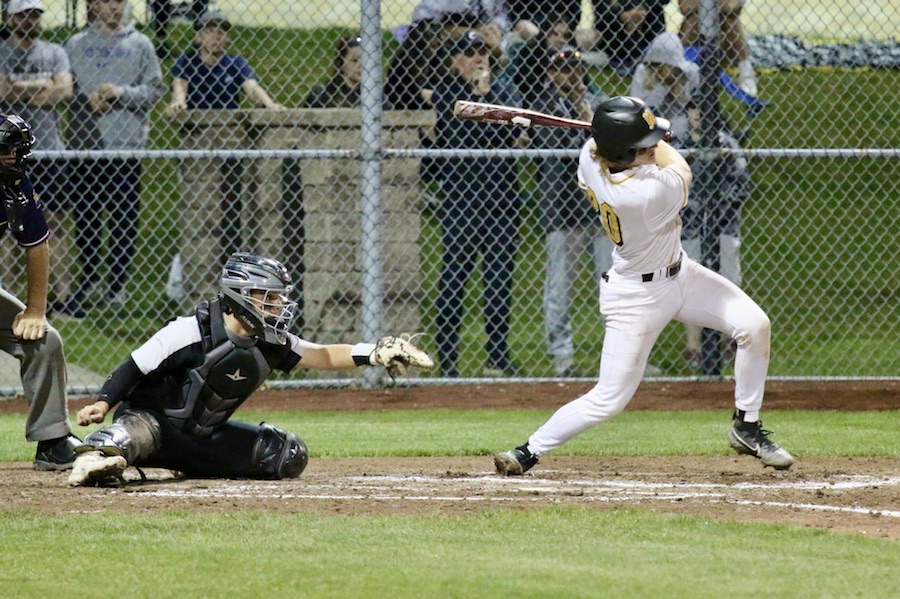 NA Clinches 2nd Place with 10-3 win over Pine-Richland
by Bob Orkwis
The North Allegheny Tigers knew the scenario if they lost their final section contest to Pine-Richland. That result would have dropped the Tigers into third place in Section 1 (6A).
A loss would have also meant a series sweep by the rival Rams.
With that on the line, North Allegheny took care of business with a huge nine-run fourth inning to post a 10-3 win at home against Pine-Richland.
The Rams plated a pair of runs in the top of the third against Tigers starter and winning pitcher, sophomore Nick Varlotta.
That's where the score stood until North Allegheny sent 13 batters to the plate in their half of the fourth.
Owen Schall started the inning by drawing a walk. Ian Zahorchak followed with a perfect bunt for a base hit. After David Posey hit into a fielder's choice, Anthony Varlotta drove home Schall with a single. Augie Maslo tied the game at 2-2 with a hustling RBI double.
The Tigers took the lead on a wild pitch with Harron Lee at the plate who then walked and stole second, followed by a walk to Andrew Dougherty to load the bases.
Spencer Barnett drove in a run with a fielder's choice and Andrew Hart followed with an RBI single. Schall, in his second at bat in the inning, drove in a pair with a base hit, then Zahorchak drove in another run with a single. Posey then doubled home another run and the Tigers had a 9-2 lead.
In the fifth, Maslo walked, took second on a groundout and scored on a Dougherty single to make the score 10-2.
Varlotta walked a pair of Rams to start the sixth inning, ending his night as he was relieved by junior J.D. Costanzo. Although Costanzo did allow one of the runners he inherited to score, he was fantastic in his two innings of work, striking out five of the seven batters he faced.
Augie Maslo took home the Wright Automotive Player of the Game honors. The sophomore drew a pair of walks and hit an RBI double in three plate appearances. He also scored twice in the win for North Allegheny.
With the victory, the Tigers improved to (12-5, 8-4) with three non-section contests remaining. Pine-Richland dropped to (14-6) and the Rams also finished with an (8-4) section record, as did Seneca Valley. Even though all three teams will be considered as tri-section champions, due to head-to-head tiebreaker records, the final order of finish in Section 1 will be Pine-Richland, North Allegheny, and Seneca Valley, with Butler as the fourth playoff qualifier.
The Tigers will visit Shaler on Wednesday and the WPIAL is set to reveal the baseball playoff brackets on Friday.
Line Score - Baseball vs. Pine-Richland - 05/08/2023
| Score by Innings | 1 | 2 | 3 | 4 | 5 | 6 | 7 | R | H | E |
| --- | --- | --- | --- | --- | --- | --- | --- | --- | --- | --- |
| Pine-Richland | 0 | 0 | 2 | 0 | 0 | 1 | 0 | 3 | 6 | 0 |
| North Allegheny | 0 | 0 | 0 | 9 | 1 | 0 | X | 10 | 9 | 1 |
WP - Nico Varlotta (2-0) LP - Nathan Kush