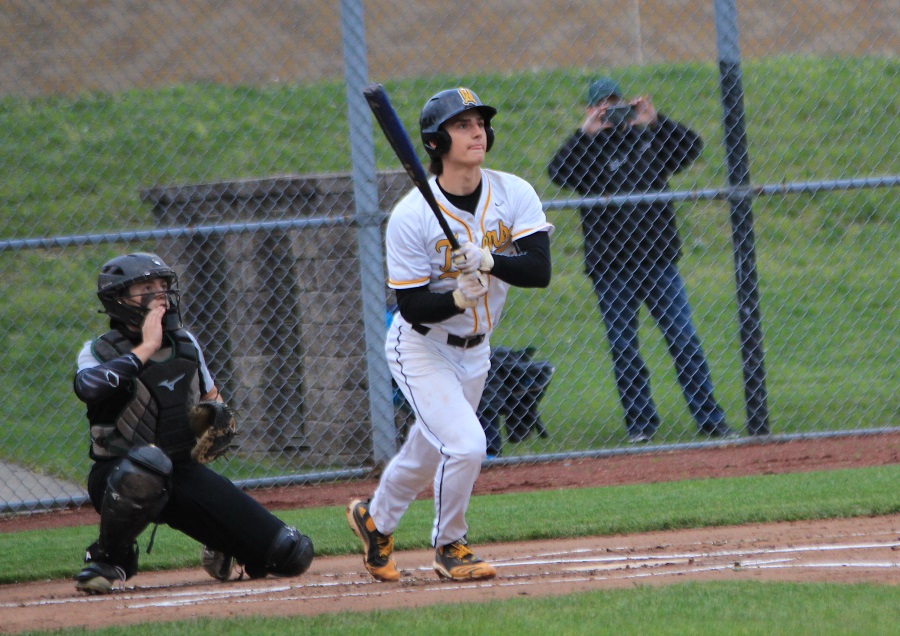 NA Humbles Pine-Richland, 8-1, To Cap Section Slate
The North Allegheny baseball team wrapped up the Section 1-6A schedule on Thursday night with an 8-1 triumph over the Pine-Richland Rams.
A day after punishing Pine-Richland pitching with three home runs in a section title-clinching win on the road, the Tigers continued to batter the Rams in their more spacious home ballpark. In the first inning, junior Cole Young clubbed his team-leading sixth home run of the season to give North Allegheny an early 1-0 lead.
Pine-Richland's Tanner Singh hit a solo homer in the top of the second inning to tie the game at 1-1, but it was the first and only run for the Rams for the rest of the night. North Allegheny starter Kyle Demi slammed the door on PR the rest of the way, allowing only three hits and two walks while striking out 12 batters in six innings of the work. Demi earned the win to improve to 6-0 on the season. Sophomore Spencer Barnett pitched a scoreless seventh for the Tigers. Pine-Richland's Sean Connelly took the loss, surrendering five runs in 4.2 innings.
With Demi controlling the Pine-Richland bats, the Tigers scored a single run in the second to regain the lead at 2-1 and put the game away with three-run innings in the fifth and sixth innings. The fifth inning was highlighted by back-to-back RBI doubles from Logan Andreyko and Young. The sixth inning included by RBI singles from Ethan Gavlik and Danny Gallon to help close out the 8-1 victory.
North Allegheny improves to 15-2 overall and finishes the section slate with a 9-1 record. Pine-Richland slides to 6-10 overall and 3-7 in the section. The Tigers will visit North Hills in a non-section game on Monday night.
Box Score - Baseball vs. Pine-Richland - 05/06/2021
| Score by Innings | 1 | 2 | 3 | 4 | 5 | 6 | 7 | R | H | E |
| --- | --- | --- | --- | --- | --- | --- | --- | --- | --- | --- |
| Pine-Richland | 0 | 1 | 0 | 0 | 0 | 0 | 0 | 1 | 3 | 3 |
| North Allegheny | 1 | 1 | 0 | 0 | 3 | 3 | X | 8 | 12 | 0 |
WP - Kyle Demi (6-0) LP - Sean Connolly