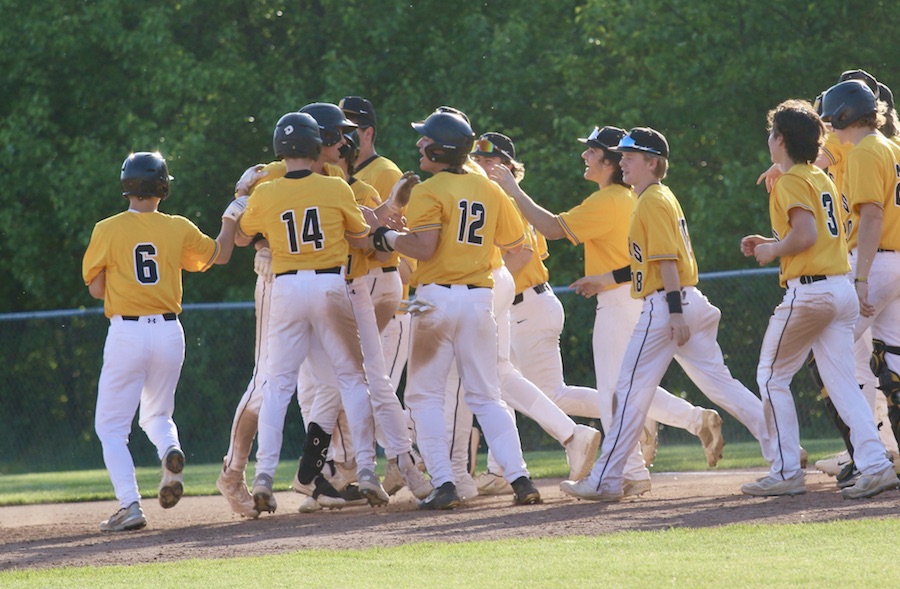 NA Sweeps Fox Chapel, Trinity To End Regular Season
The North Allegheny baseball team capped the regular season with doubleheader sweep against Fox Chapel and Trinity in non-section play on Thursday. In game one, the Tigers prevailed in walk-off fashion against the Foxes, 6-5, thanks to a walk-off RBI single by Andrew Hart to score Matthew Parreaguirre in the bottom of the 10th inning. In the night cap, the Tigers blanked the visiting Hillers, 7-0.
Against Fox Chapel, North Allegheny trailed 5-2 before the staging a rally in the bottom the seventh. Junior Owen Schall's one-out RBI single cut the deficit to 5-3. With the Tigers down to their final out, senior Anthony Varlotta's two-run single knotted the score at 5-5 to force extra innings. The game remained deadlocked until Hart's walk-off single drove in the game-winning run in the bottom of the 10th.
Senior Spencer Barnett had a big day at the plate in game one, going 3-for-4 with two walks and two runs scored. Senior Joseph Dejonckheere picked up the win in relief with 4.2 innings of work, permitting two runs on three hits with one walk and two strike outs.
In game two, the Tigers and Hillers were scoreless through three innings before NA broke the game open with a five-run fourth inning. Varlotta sparked the big inning with a two-run single, junior David Posey followed with a two-run base hit and a Trinity error made it 5-0, Tigers. North Allegheny tacked on two more runs in the fifth when senior Harron Lee scored on a passed ball and Schall drove in the game's final run with a sacrifice fly to bring the game to its eventual final, 7-0.
Junior pitcher J.D. Costanzo silenced the Hillers with six innings of two-hit baseball and 15 strikeouts. Junior Charles Mau tossed a scoreless seventh with a pair of strikeouts in relief.
With the doubleheader sweep, North Allegheny improves to 14-6 on the season. The Tigers await the WPIAL playoff brackets, which will be released on Friday.
Line Score - Baseball vs. Fox Chapel - 05/11/2023
| Score by Innings | 1 | 2 | 3 | 4 | 5 | 6 | 7 | 8 | 9 | 10 | R | H | E |
| --- | --- | --- | --- | --- | --- | --- | --- | --- | --- | --- | --- | --- | --- |
| Fox Chapel | 1 | 0 | 0 | 0 | 1 | 1 | 2 | 0 | 0 | 0 | 5 | 9 | 1 |
| North Allegheny | 1 | 0 | 1 | 0 | 0 | 0 | 3 | 0 | 0 | 1 | 6 | 11 | 1 |
WP - Joseph Dejonckheere LP - Wilkinson
Line Score - Baseball vs. Trinity - 05/11/2023
| Score by Innings | 1 | 2 | 3 | 4 | 5 | 6 | 7 | R | H | E |
| --- | --- | --- | --- | --- | --- | --- | --- | --- | --- | --- |
| Trinity | 0 | 0 | 0 | 0 | 0 | 0 | 0 | 0 | 2 | 1 |
| North Allegheny | 0 | 0 | 0 | 5 | 2 | 0 | X | 7 | 6 | 1 |
WP - J.D. Costanzo LP - L. Lacock