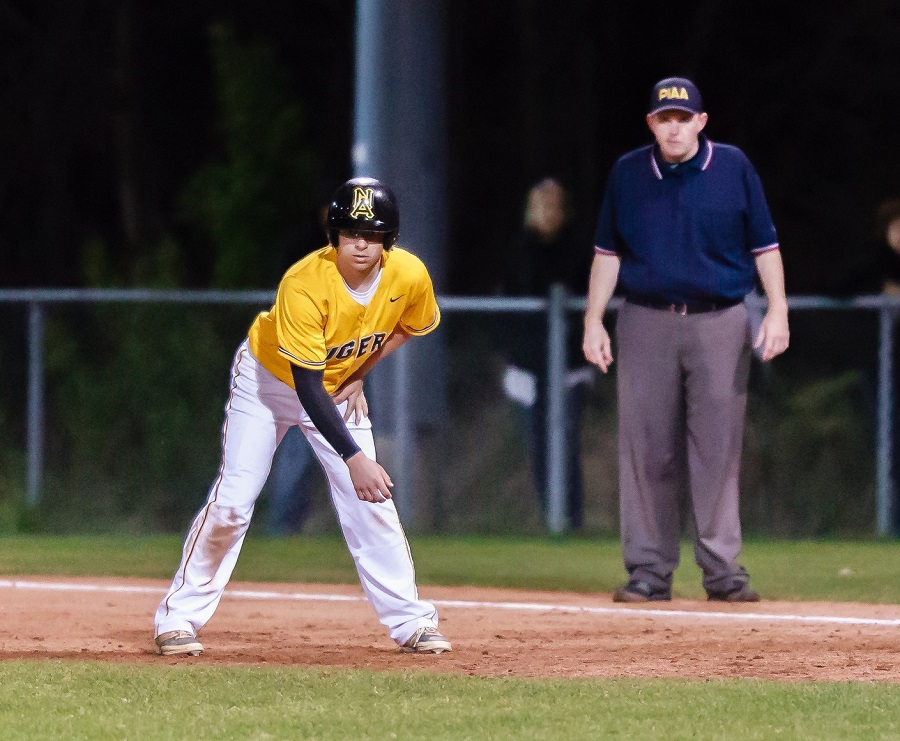 NA's Season Ends On Bad-Hop Single, 1-0
by Lee Mohn
On paper, it looked like runs would be tough to come by and it played out that way as the Tigers came out on the short end of a 1-0 defeat to the Latrobe Wildcats to end their season in the first round of the playoffs.
NA's Jacob Fischbaugh and Latrobe's Jared Kollar pitched outstanding games but it was one bad bounce that decided the game. With two outs in the third inning and a runner on third for Latrobe, Zack Kokoska hit a ground ball that took a bad bounce into Ben Marsico's face at first base to allow the runner to score the game's only run.  Fischbaugh only gave up four hits while striking out five but Jared Kollar was that much better.  He gave up only a bad hop single to Blake Young to start off the fifth inning but the Tigers could not do anything else. Jacob Fischbaugh was named the Wright Automotive player of the game for his performance.
The North Allegheny season comes to an end with an 11-10 overall record.  Congratulations to the Tigers and coach Andy Maddix on a fine season.
Baseball vs. Latrobe, 5-16-16
| Score by Innings | 1 | 2 | 3 | 4 | 5 | 6 | 7 | | R | H | E |
| --- | --- | --- | --- | --- | --- | --- | --- | --- | --- | --- | --- |
| North Allegheny | 0 | 0 | 0 | 0 | 0 | 0 | 0 | | 0 | 1 | 0 |
| Latrobe | 0 | 0 | 1 | 0 | 0 | 0 | X | | 1 | 4 | 0 |
WP - Jared Kollar LP - Jake Fischbaugh