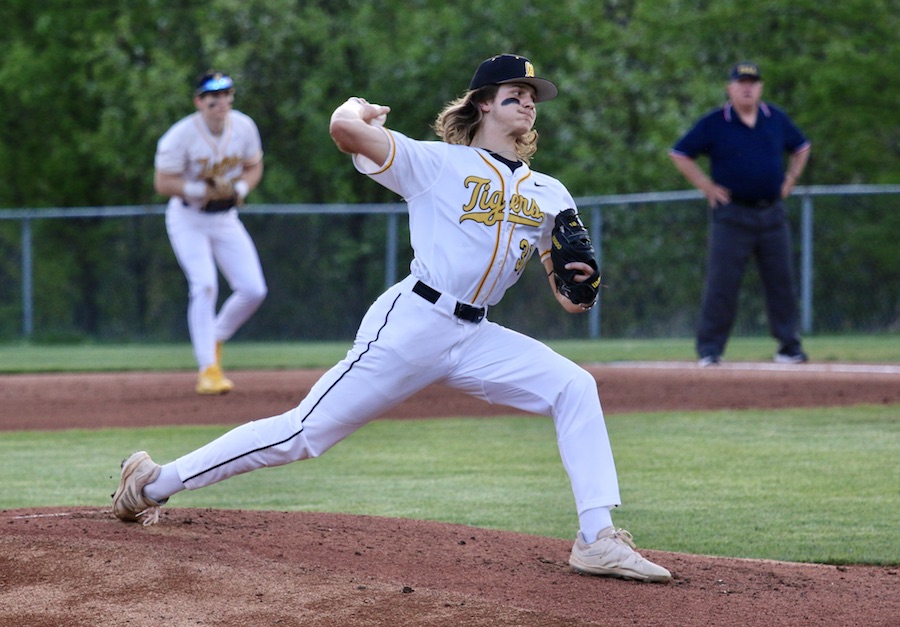 Nicolas Varlotta Twirls No-Hitter, NA Blanks Allderdice, 5-0
Sophomore Nicolas Varlotta tossed the ninth no-hitter in program history on Thursday night to lead North Allegheny to a 5-0 victory over Allderdice. Varlotta struck out nine batters and blanked the Dragons for his first varsity win. The no-hitter was the first by the Tigers since 2021 and the first seven-inning no-hitter since 2016. Varlotta's brilliance against Allderdice also marked the first seven-inning, complete-game no-hitter since Mitch Machi twirled a no-no against Fox Chapel on April 6, 2012.
With Varlotta taking the fire out of the Dragons' bats, the North Allegheny lineup produced a four-run third inning to seize command of the game. Senior Andrew Dougherty started the scoring with an RBI single that plated Harron Lee for a 1-0 lead. With two outs and nobody on, Spencer Barnett walked and later scored on an RBI base hit by Andrew Hart. A single by Ian Zahorchak kept the inning going, followed by back-to-back RBI singles from David Posey and J.D. Costanzo for a 4-0 advantage.
In the bottom of the sixth, the Tigers tacked on an insurance run when Lee's RBI single scored Matthew Parreaguirre for a 5-0 lead.
Throughout the series with the Dragons, the Tigers came tantalizing close to throwing a no-hitter in each game of the first two games. Costanzo took a no-hit bid into the seventh inning on Tuesday and Posey threw a one-hitter against Allderdice a day later. To start the top of the seventh, Allderdice leadoff hitter Landon Blank, who broke up Costanzo's no-hitter, popped out against Varlotta in a 10-pitch at-bat. The biggest scare of the night came off the bat of Ty Rubenstein, who laced a line drive that was caught by Posey with a diving stab at first base for the inning's second out. Varlotta left nothing to chance on the next batter and struck out Alex Schafer on four pitches to complete the no-hitter. Varlotta was named the Wright Automotive Player of the Game by the North Allegheny Sports Network.
The win completed a three-game sweep of Allderdice and extended the Dragons' section losing streak to 33 consecutive games. With back-to-back shutouts, the Tigers have not allowed a run in 14 consecutive innings.
North Allegheny leaps to 8-2 overall and 5-1 in Section 1-6A to take sole possession of first place. Allderdice falls to 1-9 overall and 0-9 in the section. The Tigers will host Mars on Friday at 4:00 p.m. The game will be broadcast live by the North Allegheny Sports Network.
Line Score - Baseball vs. Allderdice - 04/20/2023
| Score by Innings | 1 | 2 | 3 | 4 | 5 | 6 | 7 | R | H | E |
| --- | --- | --- | --- | --- | --- | --- | --- | --- | --- | --- |
| Allderdice | 0 | 0 | 0 | 0 | 0 | 0 | 0 | 0 | 0 | 2 |
| North Allegheny | 0 | 0 | 4 | 0 | 0 | 1 | X | 5 | 9 | 1 |
WP - Nicolas Varlotta (1-0) LP - Landon Blank