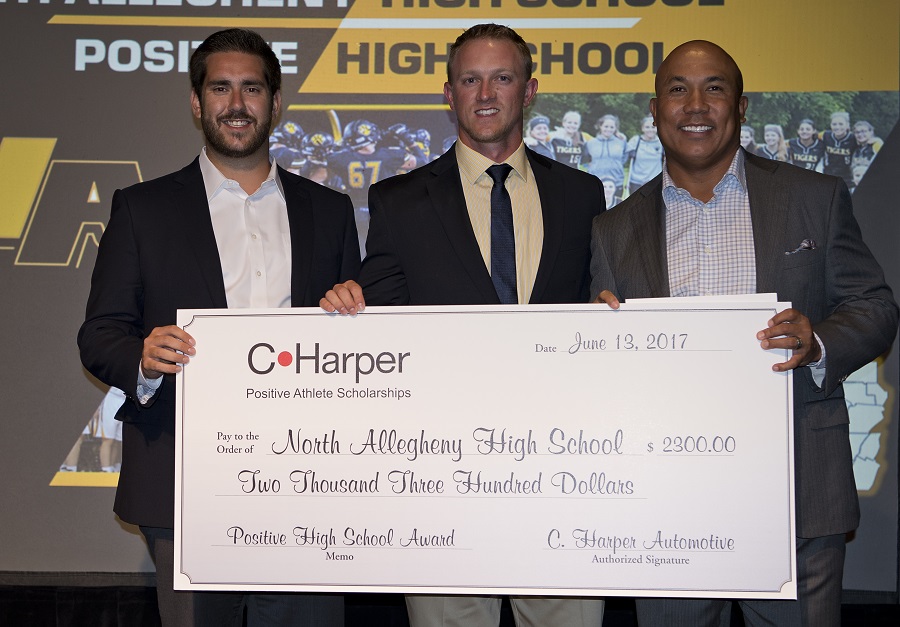 North Allegheny Recognized At Positive Athlete Award Banquet
The North Allegheny athletic department was recently recognized by former Steelers great Hines Ward and the Positive Athlete Pittsburgh program. Positive Athlete Pittsburgh is a movement by high-character athletes in Western Pennsylvania to promote the benefits of "positivity" to young athletes. Over $50,000 in college scholarships have been awarded thru this movement which generates over 1,000 nominees each year.
Annually, an awards banquet is held to honor these athletes. Proudly, North Allegheny was bestowed with the honor of receiving a $2,300 Positive Athlete school award. Tigers head baseball coach Andrew Heck accepted the award on North Allegheny's behalf. Additionally, NA senior shortstop and defensive back, Alex Mesaros, earned an individual Positive Athlete scholarship of $500.
Congratulations to Mesaros and the entire North Allegheny athletic department for providing a shining example of positive athleticism, success and achievement.