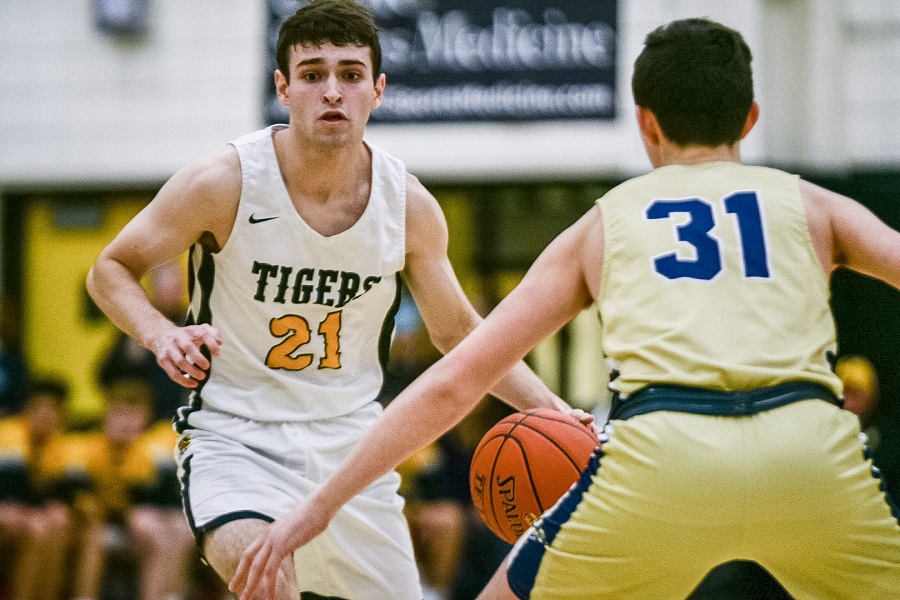 Student-Athlete Profile: Multi-Sport Senior Nate Campbell
A two-sport athlete at North Allegheny, senior Nate Campbell isn't the type of player who will light up the scoreboard on the hardwood or hit multiple home runs on the diamond. However, the 5'11" guard and outfielder provides a brand of play that can't be measured in a box score.
Exhibiting a hard-nosed and defensive-minded style of play, Campbell's electrifying effort gave opponents fits. As a senior sparkplug off the bench for the NA basketball team, his energy permeated throughout the rest of the team.
"I really didn't focus on myself but instead on what my team needs at the time," said Campbell. "I understood that what I lacked on offense, I brought to the floor on defense."
Appearing in 24 games this season, often times as NA's "sixth man," Campbell frustrated foes with his all-out approach on defense. He also exhibited selfless play on offense, tying for the team lead in assists with 32 on the year.
No game during the 2019-2020 season better exemplified Campbell's effort than North Allegheny's 57-51 home win over North Hills on Jan. 14. Playing in a pivotal section game at midseason, Campbell drew four charges from the rival Indians and dished out four assists in the victory. It was that type of effort that helped North Allegheny reach the WPIAL playoffs for the second consecutive year.
On the baseball field, his demeanor remains the same.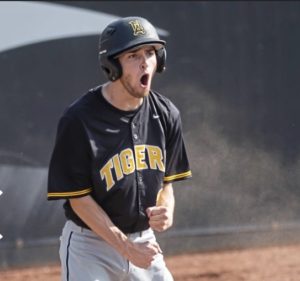 "I would say I'm pretty much the same way for baseball. I play very hard-nosed and I try to do things in an unorthodox way, I guess you can say. I really just try to do whatever I can for the team. I know I'm not going to hit a bunch of home runs but I can try to affect the people on the basepaths."
Seeing limited playing time on an experienced NA team in the spring of 2019, Campbell was anticipating a larger role this season. Unfortunately, COVID-19 sidetracked the 2020 baseball campaign.
Despite the early shutdown this season, Campbell had already caught his big break at the conclusion of his junior campaign. Attending a WPIAL showcase hosted by Washington & Jefferson College in mid-June, Campbell caught the attention from the coaches at Penn State Behrend. After further impressing during the AAU season while playing for the Pittsburgh Spikes during the summer of 2019, the coaches at PSU-Behrend were convinced.
"Whenever I visited (PSU-Behrend), I really enjoyed the campus. The coaches are unbelievable and some of the nicest people I ever met. (They have) great academics and it's a chance to continue doing what I love with a program that is very successful."
At PSU-Behrend, Campbell will play for winning program in NCAA Division III's Allegheny Mountain Collegiate Conference. The Lions perennially challenge for the AMCC championship. Playing for a winner is something that Campbell is accustomed to.
"Being at NA, there's a winning culture engraved into what you're a part of. You learn to enjoy winning and its very hard to stray away from a program that wins as much as they do."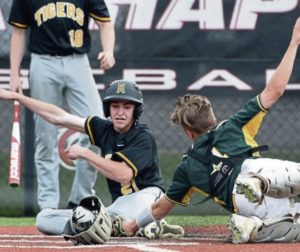 While winning habits that were instilled in Campbell at North Allegheny, his biggest role model is his father, Drew, who played basketball at Ligonier Valley and the University of Pitt-Johnstown.
"The biggest influence I had was my Dad," said Campbell about his athletic career. "He explained to me what I would go through in terms of nutrition, workouts, balancing school, communicating with professors and what to expect during the recruiting process."
As a multi-sport athlete since fifth grade, Campbell's ability to juggle the academic rigors of North Allegheny while playing basketball and baseball will also aid him in his future endeavors.
"Playing both sports throughout your entire life, you develop habits of getting home from practice – and rather than napping and sleeping, you get straight to school work. Then you go straight to bed and wake up for early morning workouts and repeat every day."
Outside of sports, Campbell participates in the Best Buddies program at North Allegheny, which is a club that helps special needs children.
In addition to playing baseball at Penn State Behrend, Campbell will pursue a degree in Supply Chain Management.