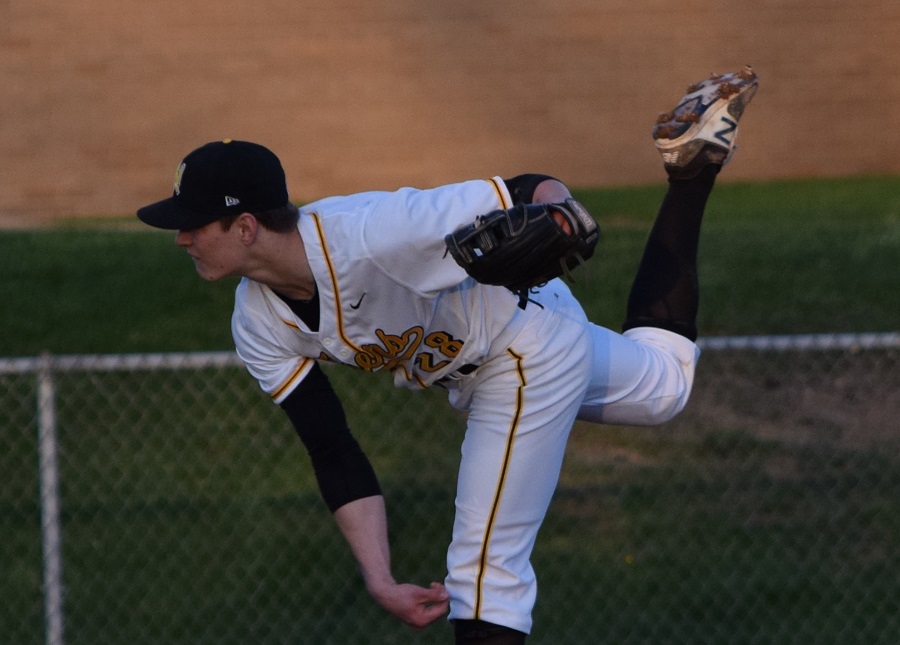 Student-Athlete Profile: Senior RHP Ben Petschke
Making his varsity debut on April 11, 2018, then-sophomore Ben Petschke got the start in an important early season game against section foe Seneca Valley. The right-hander was impressive with five shutout innings and earned the victory in a 1-0 blanking of the Raiders. Looking to build upon his superb outing a week later, Petschke held Pine-Richland to just one run in four innings in his next start. Prior to fifth inning, however, something went wrong.
"I got back on the mound and I felt a pop," said Petschke.
That "pop" was a torn ulnar collateral ligament in Petschke's pitching elbow. The injury cut short his sophomore baseball campaign but it didn't prevent the multi-sport athlete from participating in the upcoming football season in the fall. Showing incredible desire and determination, Petschke played through the UCL injury and led the Tigers to a 10-1 record and Class 6A Quad County Conference championship.
Splitting time at quarterback with Gunnar Fischer and Joey Colella, Petschke was North Allegheny's leading passer in 2018 with 664 yards and seven touchdowns. He added 122 yards rushing and four more scores.
"With the different arm motion (for football) there were no problems. I felt no pain with the arm but I couldn't throw a baseball."
With a pending surgery inevitable, Petschke immediately had partial Tommy John surgery to repair his ailing elbow at the conclusion of the football season. While a partial Tommy John requires less recovery time, Petschke's rehab forced him to miss the entire 2019 baseball season as a pitcher.
Unable to contribute on the mound, Petschke did appear occasionally as a pinch runner and was willing to do anything he could to help his teammates.
"I tried to help out the coaches with drills and I was there for support for the guys. It was a lot of fun being with them every day."
Following an intense rehab regiment, Petschke was ready to resume throwing over the summer. However, while pitching for the Pittsburgh Spikes summer showcase team, something didn't seem quite right.
"I would throw off the mound in practice and my velocity was just not there. I was throwing like 80."
The problem was not Petschke's elbow but instead his mindset. He received some words of wisdom from one of his pitching coaches, former Pittsburgh Pirates hurler Josh Sharpless.
"(Sharpless) pulled me aside and told me to stop being passive about my arm. I needed to start throwing hard. If it's going to give out again, its just not meant to be. That's what really clicked in my mind."
No longer fearful of cutting loose the fastball, Petschke's velocity returned. Thanks to continued work with Sharpless, his fastball now flashes at 92 miles per hour.
Now fully recovered and possessing an improved fastball, Petschke was ready for his next big break. In August of 2019, he received an email about a baseball camp at the University of Dayton. At the camp, the Dayton coaches liked what they saw in Petschke and his decision to play baseball at the University of Dayton was made.
In the fall, and no longer splitting time at quarterback, Petschke had a big senior season on the gridiron. Helping the Tigers to another 10-win season, Petschke threw for over 1,300 yards and efficiently tossed 16 touchdowns passes compared to just four interceptions. He added 269 yards on the ground and four rushing totes. By season's end, Petschke earned honorable mention accolades from the Big 56 Conference.
Primed and ready for a big senior year on the diamond, Petschke was named a Player to Watch in Class 6A. Unfortunately, due to COVID-19, Petschke will miss out on yet another baseball season at North Allegheny.
Accustomed to overcoming adversity and finding a silver lining in any situation, the NA pitcher has used the down time during quarantine to develop additional pitches to his repertoire. Already throwing a fastball, curveball and a change-up, Petschke has recently added a cutter and two-seam fastball to his pitching arsenal.
"Without practice, I'm able to focus only on pitching. I'm getting my arm stronger and more endurance for it. I've been throwing with my Dad almost every day."
With many peaks and valleys over the past four years, Petschke looks back on his North Allegheny athletic career with fondness and appreciation.
"It's been a blessing to me. It's so fun and the atmosphere at the football games is unreal. With baseball, being a part of great team at NA is a gift."
Next year at the University of Dayton, Petschke will be reunited with former NA hurler Anthony Hattrup, who is currently a freshman for the Flyers. Additionally, Petschke's older sister Madison, a former North Allegheny softball player, is already attending Dayton and will be a junior next school year.