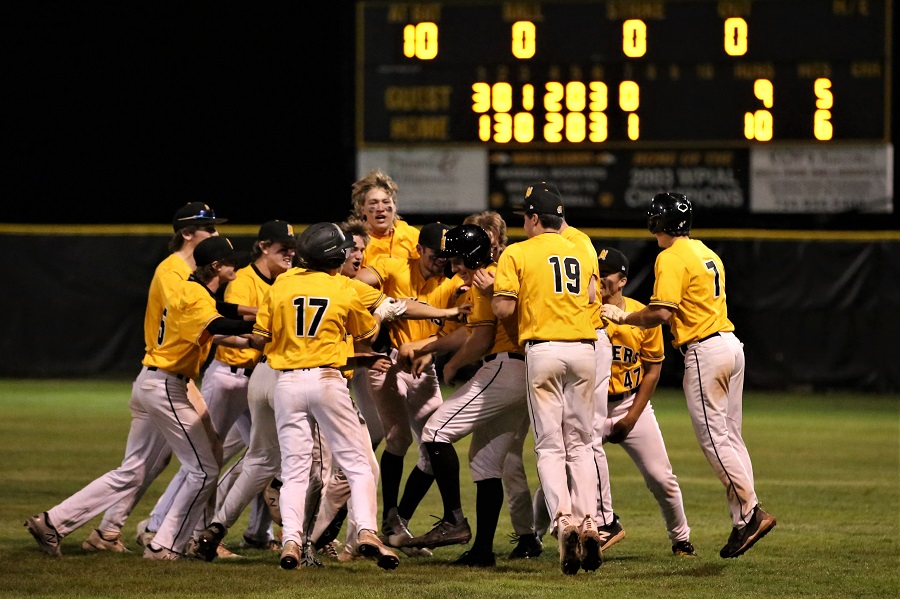 Tigers Cap DH Sweep With Walk-Off Win Over Shaler, 10-9
Senior Erik Sundgren's walk-off RBI single in the bottom of the seventh lifted North Allegheny to a thrilling 10-9 non-section win over Shaler on Thursday and completed a doubleheader sweep for the Tigers. Earlier in the day, North Allegheny defeated Mars in non-section play, 6-2. With the sweep, the Tigers have won six of their last seven games entering the final week of the regular season.
Sundgren, who finished 3-for-4 with two triples and three RBI, capped an exciting back-and forth game with Shaler with his walk-off hit in the seventh. Senior Cole Young also had a big game, going 3-for-4 with a double and four RBI. Senior Andrew Hart drove in three runs as the top three in the batting order (Sundgren, Young and Hart) were a combined 7-for-11 with eight RBI. The offensive showcase came against Shaler's highly touted product from Venezuela, Miguel Hugas, who was touched up for eight runs (three earned) in 5.1 innings. Hugas did his part offensively for the Titans, however, with a 3-for-4 day, belting a home run and collecting six RBI. North Allegheny senior reliever Caden Suba earned the victory with three innings of work, permitting three unearned runs with three walks and four strikeouts.
Earlier in the day in game against Mars, it was sophomore Cole Suba who picked up the win with five strong innings of relief, allowing only two runs in five innings on the bump. It was the first varsity victory for the younger Suba brother. Senior Aaron Galaska was the opener for NA with two scoreless innings to start the contest. Offensively, junior Spencer Barnett stroked his first home run of the season with a solo shot, while junior Harron Lee drove in a pair of runs as well.
North Allegheny improves to 12-5 overall with the non-section sweep. The Tigers will host Norwin on Monday night at 7:00 p.m. for another non-section affair.
Line Score - Baseball vs. Mars - 05/05/2022
| Score by Innings | 1 | 2 | 3 | 4 | 5 | 6 | 7 | R | H | E |
| --- | --- | --- | --- | --- | --- | --- | --- | --- | --- | --- |
| Mars | 0 | 0 | 0 | 0 | 1 | 0 | 1 | 2 | 4 | 1 |
| North Allegheny | 0 | 2 | 2 | 0 | 0 | 2 | X | 6 | 9 | 0 |
WP - Cole Suba (1-0) LP - Richard Lusk
---
Line Score - Baseball vs. Shaler - 05/05/2022
| Score by Innings | 1 | 2 | 3 | 4 | 5 | 6 | 7 | R | H | E |
| --- | --- | --- | --- | --- | --- | --- | --- | --- | --- | --- |
| Shaler | 3 | 0 | 1 | 2 | 0 | 3 | 0 | 9 | 7 | 4 |
| North Allegheny | 1 | 3 | 0 | 2 | 0 | 3 | 1 | 10 | 10 | 2 |
WP - Caden Suba (2-0) LP - Logan Bauer