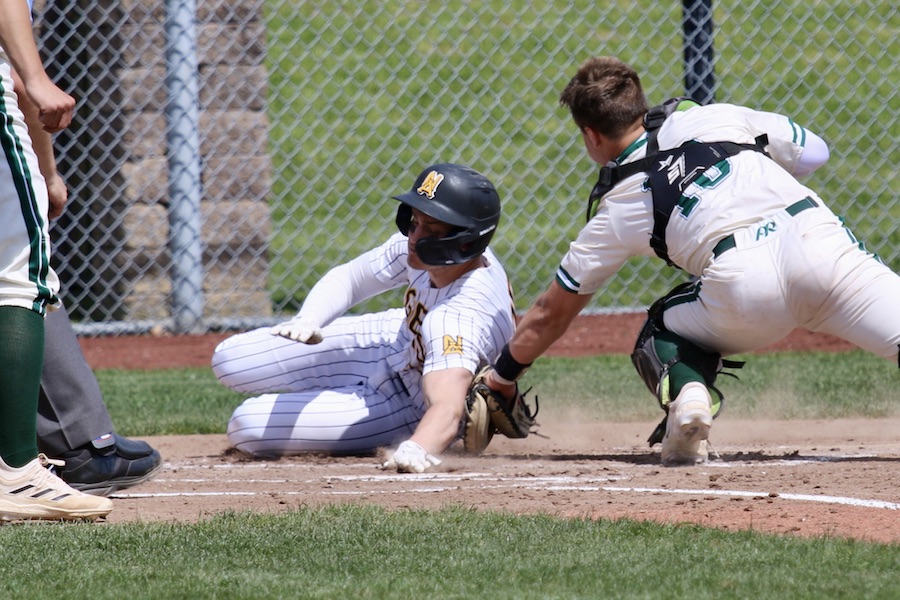 Tigers Edged By Rams In Extra Innings, 12-10
In a topsy-turvy section game on Saturday afternoon, the North Allegheny baseball team fell to the Pine-Richland Rams, 12-10, in 11 innings. The Rams trailed 7-1 after two innings but rallied to force extra innings and ultimately claimed the win. The Rams clinched the Section 1-6A title with the victory. The 11-inning contest was the longest played by North Allegheny since a 17-inning marathon against Shaler that required two days to finish in 2018 and resulted in a 1-0 win.
The Tigers seemed to be on their way toward victory with a quick start against the rival Rams. Andrew Hart's two-run single in the bottom of the first gave NA a 2-0 lead.
After an RBI single by Jake Waddell cut the Tigers lead to 2-1 in the top of the second inning, North Allegheny answered with a five-run bottom of the second. Anthony Varlotta's sacrifice fly made it 3-1, Tigers, and Harron Lee's two-run base hit grew the lead to 5-1. Additional RBI singles from Spencer Barnett and Owen Schall gave NA a 7-1 advantage.
Despite the sizable lead for the Tigers, the Rams chipped away and eventually tied the game on a sacrifice fly by Sam Grana in the top of the seventh inning.
While Pine-Richland grabbed a 10-7 lead in the top of the eighth, North Allegheny responded with a three-run bottom of the eighth to force the game even deeper. Lee's two-run single and Barnett's sacrifice fly tied the score at 10-10 to keep the game going.
Even though NA proved resilient, Pine-Richland took the lead for good in the top of the 11th on an RBI single by Anthony Mengine and an RBI double from Tanner Cunningham for a 12-10 advantage.
Schall was named the Wright Automotive Player of the Game with a 3-for-5 performance and several strong defensive plays. Senior Drew Dougherty helped the lineup with a 4-for-6 day and two runs scored. Lee drove in three runs, while Barnett and Hart each finished with two RBI's.
Reliver Cole Suba took the loss with two innings on the mound and two runs allowed with four strikeouts and three walks. Pine-Richland's Jacob McGuire earned the victory with four innings of relief, permitting one run with four strikeouts and four walks.
North Allegheny slips to 11-5 overall and 7-4 in Section 1-6A. The Tigers will try to salvage a game from the Rams at home on Monday night at 7:00 pm. The game will be broadcast live by the North Allegheny Sports Network.
Line Score - Baseball vs. Pine-Richland - 05/06/2023
| Score by Innings | 1 | 2 | 3 | 4 | 5 | 6 | 7 | 8 | 9 | 10 | 11 | R | H | E |
| --- | --- | --- | --- | --- | --- | --- | --- | --- | --- | --- | --- | --- | --- | --- |
| Pine-Richland | 0 | 1 | 0 | 0 | 2 | 3 | 1 | 3 | 0 | 0 | 2 | 12 | 15 | 1 |
| North Allegheny | 2 | 5 | 0 | 0 | 0 | 0 | 0 | 3 | 0 | 0 | 0 | 10 | 13 | 2 |
WP - Jacob McGuire LP - Cole Suba (0-1)