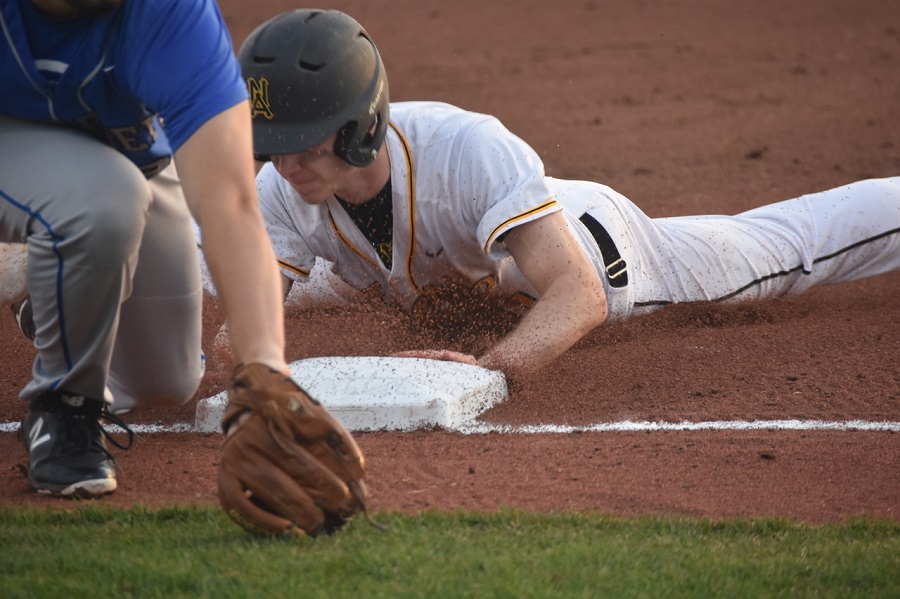 Tigers Slide Past Spartans In WPIAL Semifinal Rematch
In a rematch of last year's WPIAL Class 6A semifinals, the North Allegheny Tigers once again came away victorious over the Hempfield Spartans with a 12-2 triumph in six innings on Thursday night. The Tigers capitalized on six errors by the Spartans to claim the non-section win.
The Tigers scored early and often and plated two runs in the bottom of the first inning. A double steal and subsequent throwing error allowed J.T. Montross to score NA's first run. Freshman Cole Young added an RBI single to drive home Logan Andreyko for a 2-0 North Allegheny lead.
Hempfield inched back in the top of the third inning when Mike Hosni led off with a triple and scored moments later on a North Allegheny error to cut the score to 2-1.
The Tigers answered back in the bottom of the third inning and scored three runs with the help of three walks and another Hempfield error. The third walk of the inning, a bases loaded free pass to senior Anthony Hattrup, improved NA's lead to 3-1. Joe Manesiotis followed with a two-run single to bring the score to 5-1, Tigers.
Andreyko scored his second run of the night on a Hempfield throwing error in the fourth inning for a 6-1 advantage. Reaching base three times with two singles and a walk, to go along with an RBI and two runs scored, Andreyko received Wright Automotive Player of the Game honors by the North Allegheny Sports Network.
Hempfield got one run back in the top of the fifth inning when Hosni scored on a North Allegheny error to trim the NA lead to 6-2.
The Tigers effectively put the game away with three more runs in the bottom of the fifth inning. Joey Colella led off the inning with a triple and scored an out later on a double by Hattrup for a 7-2 lead. A double by Trevor Freyvogel and another error by the Spartans ballooned the NA lead to 9-2.
Hempfield completed its collapse in the bottom of the sixth inning, hand delivering three more runs with two walks and three errors to close out a 12-2 mercy-rule win.
Not only driving in a pair of runs, Hattrup was also the starting and winning pitcher with three innings of solid work. The Dayton University commit struck out four batters, while permitting only two hits, a walk and one run. The NA bullpen of Niklas Baldis and Ben Tharpe combined to allow only one unearned in three innings of relief. Hempfield starter Colin Rubino suffered the loss with four runs allowed (two earned) in 2.1 innings on the bump.
North Allegheny improves to 8-5 overall on the season. Hempfield slips to 6-8 overall with their fifth straight defeat. The Tigers will visit Hampton on Monday afternoon in another non-section contest.
Box Score - Baseball vs. Hempfield - 04/18/2019
| Score by Innings | 1 | 2 | 3 | 4 | 5 | 6 | 7 | R | H | E |
| --- | --- | --- | --- | --- | --- | --- | --- | --- | --- | --- |
| Hempfield | 0 | 0 | 1 | 0 | 1 | 0 | X | 2 | 2 | 6 |
| North Allegheny | 2 | 0 | 3 | 1 | 3 | 3 | X | 12 | 8 | 3 |
WP - Anthony Hattrup (2-1) LP - Colin Rubino