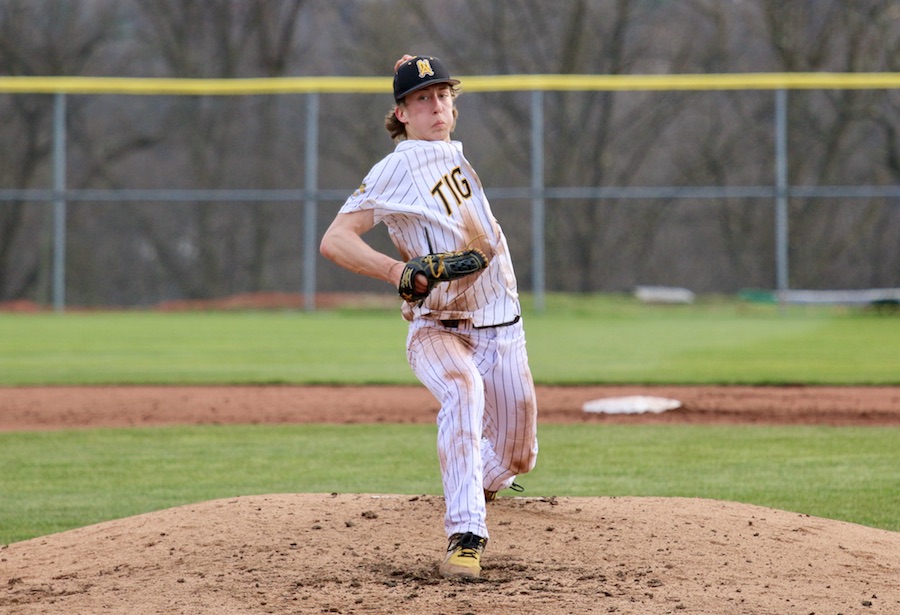 Tigers Split Non-Section Twin Bill With State College, Chartiers Valley
Donning the home pinstripes for the first time this season, the North Allegheny baseball team split a non-section doubleheader with State College and Chartiers Valley on Wednesday. The Tigers dropped game one to the Little Lions by a 4-2 decision and bounced back in game two for a 10-0 victory in five innings over the Colts.
Facing each other for the first time since a PIAA first round matchup in 2017, State College showed no ill effects from a lengthy bus trip and flat tire on the way to Wexford with a big first inning. Three consecutive RBI singles by Jack Messina, Adam Cooper and Austin Harter gave the Little Lions a prompt 3-0 lead. Addison Dillon scored on a wild pitch later in the inning for a 4-0 advantage.
North Allegheny edged back with a run in the bottom of the first inning when Spencer Barnett scored on a double steal to trim the deficit to 4-1. Barnett crossed the plate again in the third inning on a State College error to cut the score to 4-2, Little Lions. Barnett finished the game with a 2-for-4 performance with two runs scored and two stolen bases.
After a rocky first inning, junior southpaw J.D. Costanzo was nearly untouchable after that and silenced State College over the next three innings, permitting only one hit in that span. Costanzo notched an eye-popping 11 strikeouts in four innings of work and was named the Wright Automotive Player of the Game.
Despite Costanzo's strong effort on the bump, the NA lineup couldn't rally back in the remaining innings as State College held on for a 4-2 win. Little Lions starter Sam Janik, making his first varsity start, worked four innings and allowed two runs (one earned) to garner the victory. Reliever Ryan Cooper pitched the final three innings to pick up the save.
For NA, senior Andrew Hart followed Costanzo on the mound with three score innings of relief and one strikeout.
In game one, North Allegheny couldn't quite find the big hit and left 10 runners on base. In game two, that was a different story as the Tigers thrived in two-out situations, going 5-for-9 with runners in scoring position and two outs.
The first inning saw the Tigers strike for three runs, including an RBI single by junior David Posey and a two-out, two-run single by August Maslo for a 3-0 lead. In the second inning, a two-out RBI single by Barnett and a two-run triple courtesy of Posey swelled the NA advantage to 6-0. Posey's courtesy runner, Cam Ward, touched home on a wild pitch and the Tigers lead grew to 7-0. Hart and Barnett each reached base three times in game two and combined for six runs scored, crossing the pay station three times each.
North Allegheny tacked on three more runs in the bottom of the fourth inning to help invoke the 10-run rule. An RBI single by Hart and a two-out, two-run bloop single to right field by junior Cole Hammer increased the Tigers advantage to 10-0. Junior hurler Greg Schmidt pitched a scoreless top of the fifth inning for NA to close out a 10-0 win.
Posey was the starting pitcher for NA and allowed only one hit in four innings with nine strikeouts and three walks to earn the victory. Along with his three RBI effort at the plate, Posey was an easy selection for Wright Automotive Player of the Game honors.
Junior reliever Greg Schmidt pitched a scoreless fifth inning to ensure the 10-run rule win.
Following Wednesday's doubleheader split, North Allegheny sits at 3-1 on the season and will visit Butler on Tuesday, April 11 for the section opener.
Line Score - Baseball vs. State College - 04/05/2023
| Score by Innings | 1 | 2 | 3 | 4 | 5 | 6 | 7 | R | H | E |
| --- | --- | --- | --- | --- | --- | --- | --- | --- | --- | --- |
| State College | 4 | 0 | 0 | 0 | 0 | 0 | 0 | 4 | 5 | 2 |
| North Allegheny | 1 | 0 | 1 | 0 | 0 | 0 | 0 | 2 | 7 | 2 |
WP - Sam Janik LP - J.D. Costanzo (1-1) SV - Cooper Ryan
---
Line Score - Baseball vs. Chartiers Valley - 04/05/2023
| Score by Innings | 1 | 2 | 3 | 4 | 5 | 6 | 7 | R | H | E |
| --- | --- | --- | --- | --- | --- | --- | --- | --- | --- | --- |
| Chartiers Valley | 0 | 0 | 0 | 0 | 0 | X | X | 0 | 1 | 1 |
| North Allegheny | 3 | 4 | 0 | 3 | X | X | X | 10 | 10 | 2 |
WP - David Posey (1-0) LP - Brendan Cruz