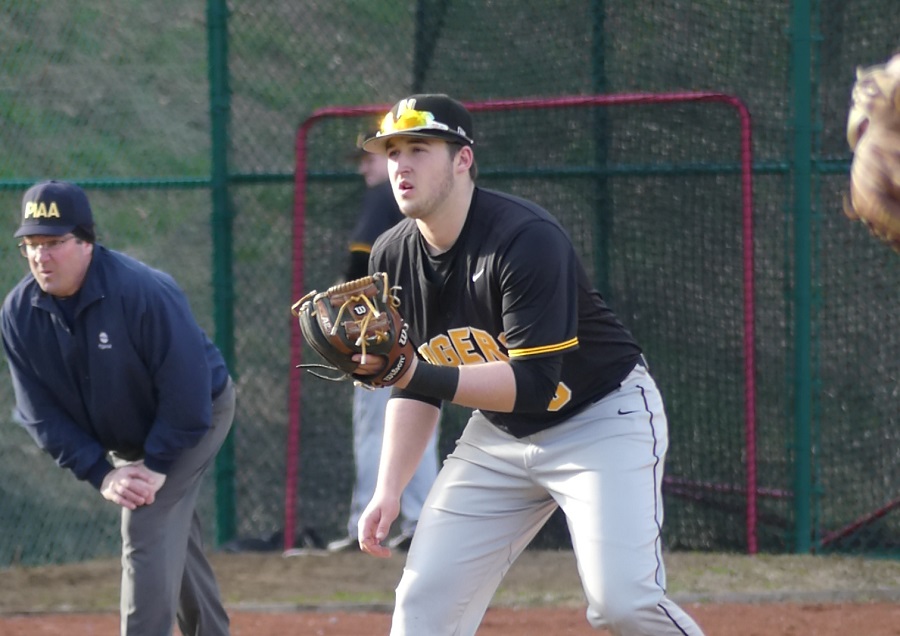 Tigers Split Non-Section Twin Bill
The North Allegheny baseball team split a non-section doubleheader on Saturday with a 3-2 loss to Mt. Lebanon and a 12-0 victory over Howland in five innings.
In the opener, the Tigers trailed 3-0 going into the bottom of the sixth inning before staging a late rally. North Allegheny trimmed the score to 3-1 on a two-out RBI single by Anthony Hattrup that scored Brett Heckert in the sixth. In the bottom of the seventh, the Tigers loaded the bases with two outs and made it 3-2 when Cam Medic scored on a passed ball. However, the final out was recorded on the bases shortly thereafter giving Mt. Lebanon the win.
The Tigers rebounded in the nightcap with a 12-0 win over Howland in five innings. Senior Caiden Wood spearheaded the attack with a four-RBI performance, including a walk-off three-run homer to invoke the 10-run rule in the bottom of the fifth inning. Brett Laughner also provided a big-hitting day by going 3-for-3 with two RBI and a run scored. Luke Trueman and Hattrup added two RBI each. Hattrup was also the winning pitcher by tossing four shutout innings, allowing just one hit.
North Allegheny sits at 9-7 overall following the doubleheader. The Tigers will visit Plum on Tuesday at 4:15 p.m. in a non-section contest.
Baseball vs. Mt. Lebanon, 5-5-18
| Score by Innings | 1 | 2 | 3 | 4 | 5 | 6 | 7 | | R | H | E |
| --- | --- | --- | --- | --- | --- | --- | --- | --- | --- | --- | --- |
| Mt. Lebanon | 0 | 2 | 0 | 0 | 1 | 0 | 0 | | 3 | 5 | 0 |
| North Allegheny | 0 | 0 | 0 | 0 | 0 | 1 | 1 | | 2 | 7 | 3 |
WP - Spencer Curran LP - Jack Kenna (1-2)
---
Baseball vs. Howland, 5-5-18
| Score by Innings | 1 | 2 | 3 | 4 | 5 | 6 | 7 | | R | H | E |
| --- | --- | --- | --- | --- | --- | --- | --- | --- | --- | --- | --- |
| Howland | 0 | 0 | 0 | 0 | 0 | X | X | | 0 | 3 | 0 |
| North Allegheny | 0 | 0 | 2 | 1 | 9 | X | X | | 12 | 10 | 0 |
WP - Anthony Hattrup (3-2) LP - Manios