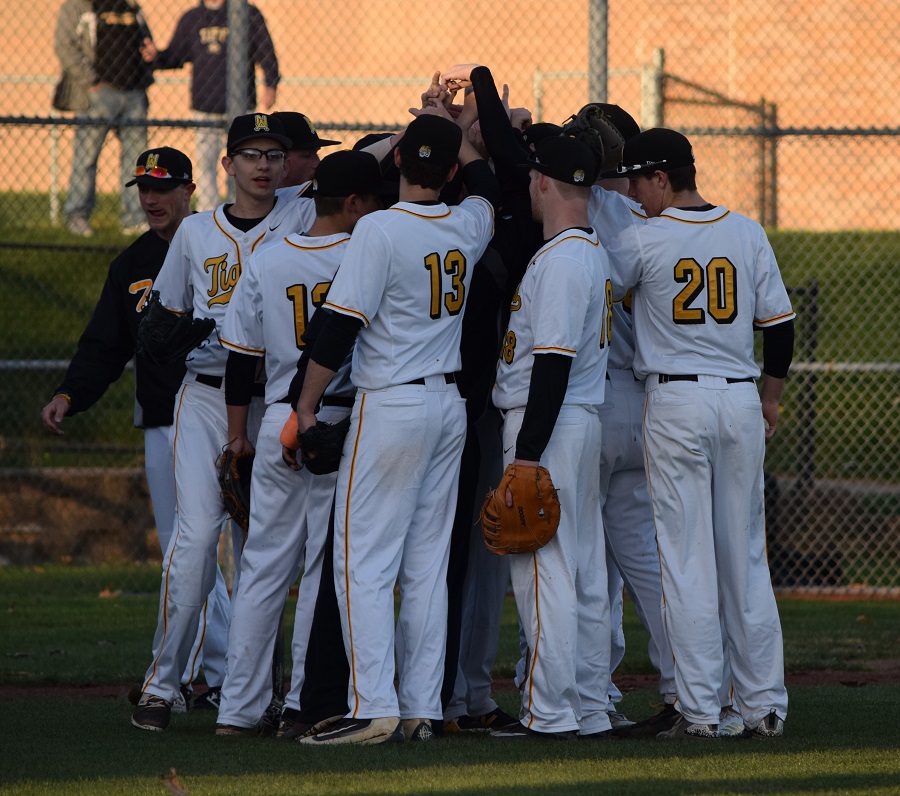 Tigers Upended By Butler
by Jared Barton
A five-run first inning was all the Butler Golden Tornado needed to secure a 6-2 victory on the road against North Allegheny Friday night.
Lightning delayed the start time and the threat of storms lingered through the first few innings, but the section game was completed with no other stoppages. In the first inning, Butler centerfielder Nick Kibbie led off the inning with a double off of NA starter Jack Kenna and later scored on a North Allegheny error. Banner scored off of a Connor Ollio double for a 2-0 lead. Grant Metzger then singled in Ollio to add to the lead at 3-0. Ryan Lynn singled to advance the runner and continued the inning. Two RBI groundouts from Jacob Keene and Colby Anderson made the score 5-0 Butler midway through the of the first.
In the bottom of the frame, C.J. Weller was hit by a pitch to start the inning. Luke Trueman and Caiden Wood were walked to load the bases. Weller scored the first Tiger run on a wild pitch to Juliano Capretta. Cam Medic then singled in Trueman making the score 5-2.
In the second inning, Butler's Nick Kibbie singled and later scored to widen the lead to 6-2. A pitching change was made for both teams as Ben Tharpe entered for the Tigers and Grant Metzger did the same for the Golden Tornado. Both pitchers shutdown the opposing offenses for the rest of the game. Butler's Metzger finished the game with seven strikeouts and two hits over six innings. Meanwhile Tharpe allowed just three hits and recorded a strikeout, while earning Wright Automotive Player of the Game honors.
With the win, Butler sweeps the regular season series with NA and improves to 5-3 in the section. The Golden Tornado is now in sole possession of second place behind Central Catholic.
North Allegheny moves to 4-4 in the section and holds third place. The Tigers take on the Pine-Richland Rams on the road Monday at 4:30 p.m.
Baseball vs. Butler, 4-27-18
| Score by Innings | 1 | 2 | 3 | 4 | 5 | 6 | 7 | | R | H | E |
| --- | --- | --- | --- | --- | --- | --- | --- | --- | --- | --- | --- |
| Butler | 5 | 1 | 0 | 0 | 0 | 0 | 0 | | 6 | 9 | 0 |
| North Allegheny | 2 | 0 | 0 | 0 | 0 | 0 | 0 | | 2 | 3 | 3 |
WP - Grant Metzger LP - Jack Kenna (1-1)