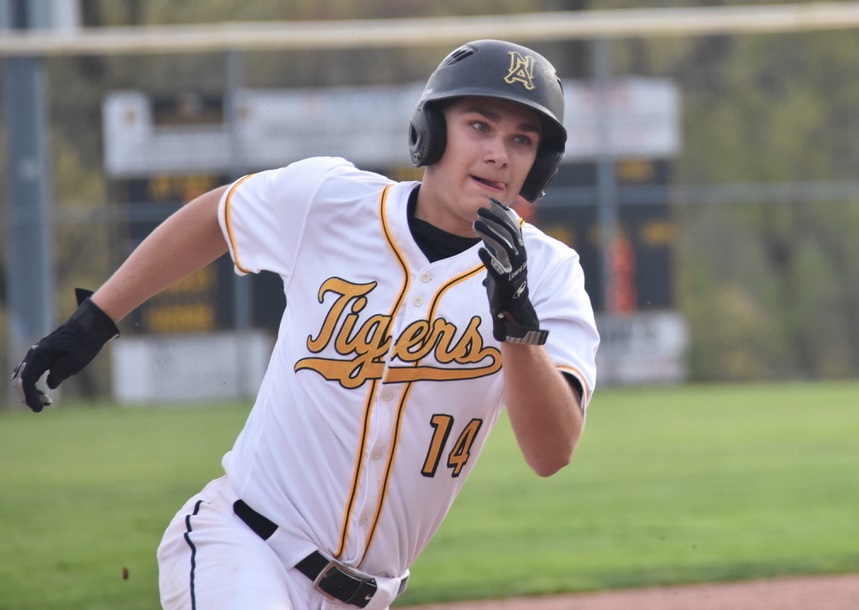 Tigers Walk-Off Raiders In Extra Innings, 4-3
Freshman Cole Young's RBI single in the bottom of the eighth scored J.T. Montross and propelled North Allegheny to a 4-3 walk-off win over the Seneca Valley Raiders on Wednesday evening. The victory is North Allegheny's fifth in a row and the 11th in the last 14 games against the rival Raiders.
Coming off a 6-1 loss to Allderdice on Monday, Seneca Valley was hoping to erase the bitter memories of that upset defeat to the Dragons. Against the Tigers, the Raiders got off to a good start and capitalized on two NA errors for a three-run top of the second inning.
The Raiders maintained their 3-0 lead through five innings before the Tigers finally solved Seneca Valley starter Cory Greiner in the bottom of the sixth inning. A Seneca Valley error helped open the door for the Tigers and NA cashed in. Back-to-back RBI singles by Logan Andreyko and Jared Orwell cut the deficit to 3-2, and with two outs in the inning Young delivered a clutch RBI single to knot the score at 3-3.
The score remained deadlocked until the bottom of the eighth inning. After one out, C.J. Weller singled and checked out for courtesy runner Montross. Andreyko followed with a walk, and after a strikeout of Orwell for the inning's second out, Greiner reached his 100-pitch limit and left the game in favor of reliever Jon McCullough. After a wild pitch advanced runners to second and third, Young drove a deep fly ball over SV leftfielder Austin Shirley to score Montross and invoke a walk-off celebration of a 4-3 victory.
Seneca Valley had plenty of baserunners throughout the game but left 14 men stranded. North Allegheny starter Kevin Schott was able to wiggle out of trouble throughout evening, scattering 10 hits and permitting only three unearned runs. In relief, lefty Ryan Partridge went 1.1 innings and pitched a 1-2-3 top of the eighth inning to earn the victory.
Greiner was saddled with the loss for Seneca Valley, going 6.2 innings and allowing four runs (two earned) with nine strikeouts and no walks.
North Allegheny improves to 12-5 overall and 6-2 in Section 1-6A. Seneca Valley dips to 9-5 overall and 3-4 in the section. Weather permitting, the Tigers will visit Allderdice on Friday at 7:00 p.m.
Box Score - Baseball vs. Seneca Valley - 05/01/2019
| Score by Innings | 1 | 2 | 3 | 4 | 5 | 6 | 7 | 8 | R | H | E |
| --- | --- | --- | --- | --- | --- | --- | --- | --- | --- | --- | --- |
| Seneca Valley | 0 | 3 | 0 | 0 | 0 | 0 | 0 | 0 | 3 | 10 | 3 |
| North Allegheny | 0 | 0 | 0 | 0 | 0 | 3 | 0 | 1 | 4 | 7 | 3 |
WP - Ryan Partridge (3-1) LP - Cory Greiner