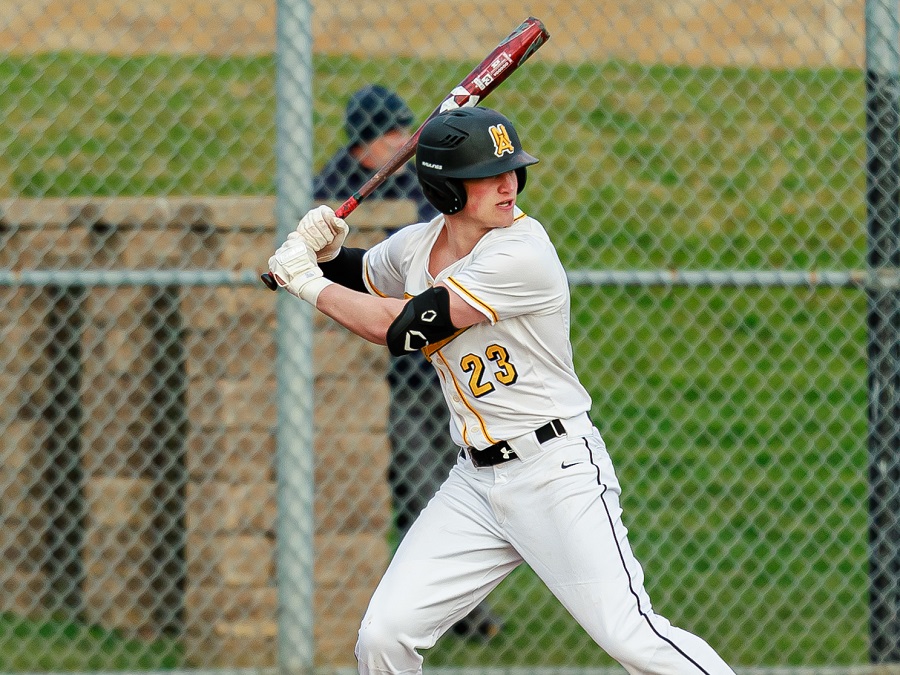 Tigers Wrangle Mustangs, 12-2
The North Allegheny baseball team bounced back from its first loss of the season with a convincing 12-2 win in six innings at Plum on Friday afternoon. The Tigers battered the Mustangs bullpen with five runs in the fifth and four more in the sixth to invoke the 10-run rule in a non-section contest.
Leading 3-2 in the top of the fifth, North Allegheny broke the game open with a five-run frame thanks to an RBI triple by Spencer Barnett, a two-run double by David Posey and another two-run double by Andrew Hart for an 8-2 lead. David Posey finished the day with a 1-for-3 performance at the plate with two runs scored and three RBI. Hart also drove in three runs with a 2-for-3 outing, which included a solo home run in the second inning.
In the top of the sixth, an Aaron Posey two-run double extended the lead to 10-2 and a two-run single by Erik Sundgren brought the score to 12-2, Tigers.
It was a prolific day for NA's potent lineup as eight of the starting nine collected at least one hit and seven Tigers either scored a run or drove in a run. Senior Cole Young was 2-for-3 with three runs scored and a walk, Barnett was 1-for-3 with three runs scored and a walk and Aaron Galaska was 1-for-2 with two runs scored and a walk.
Reliever Caden Suba held Plum without a run in the bottom of the sixth to close out the 10-run rule victory. Suba pitched two scoreless frames to earn his first win of the season. Senior Jack Baumgartel got the starting nod and pitched well, giving up only one unearned run in three innings with no walks and three strikeouts. Sophomore Charles Mau pitched one inning of relief and surrendered one run in the fourth to the Mustangs. Plum starter Justin Giarusso took the loss, allowing three runs (two earned) in two innings.
With the win, North Allegheny improves to 3-1 on the season, while Plum sustains its first loss of the year falling to 3-1. The Tigers are scheduled to host Allderdice in a Section 1-6A game on Monday at 6:00 p.m.
Box Score - Baseball vs. Plum - 04/08/2022
| Score by Innings | 1 | 2 | 3 | 4 | 5 | 6 | 7 | R | H | E |
| --- | --- | --- | --- | --- | --- | --- | --- | --- | --- | --- |
| North Allegheny | 2 | 1 | 0 | 0 | 5 | 4 | X | 12 | 12 | 2 |
| Plum | 0 | 0 | 1 | 1 | 0 | 0 | X | 2 | 4 | 2 |
WP - Caden Suba (1-0) LP - Justin Giarusso