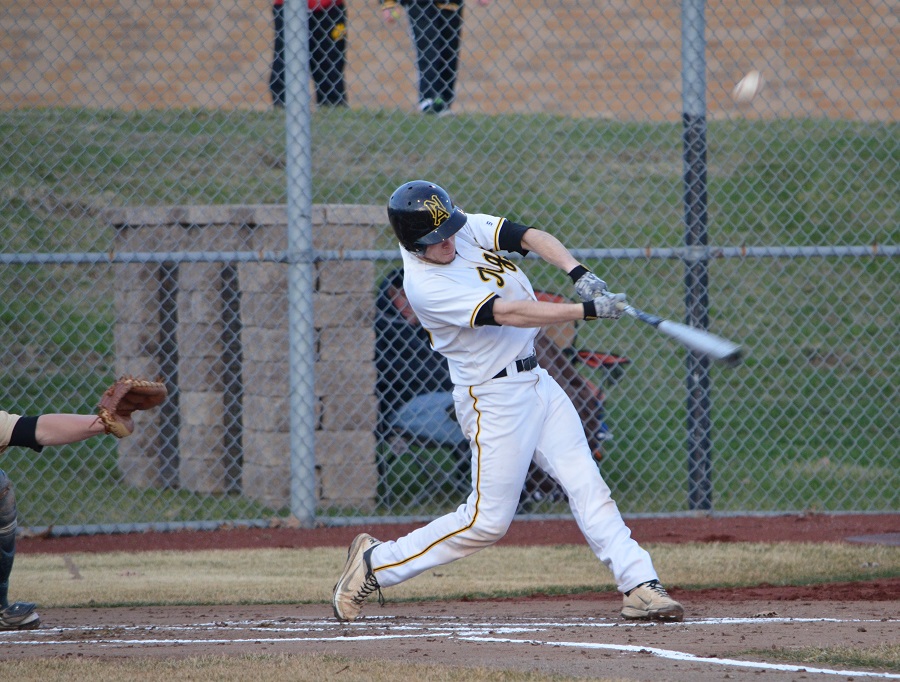 Big First Inning Propels NA Over New Castle, 10-0
Ryan Hamm and Mitch Machi drove in three runs apiece as the North Allegheny Tigers punished the New Castle Red Hurricanes on a beautiful Saturday afternoon, 10-0, in five innings. The Tigers pounced on New Castle with a six-run first inning, providing plenty of run support for starting pitcher Nick Gross.  The junior tossed a complete game shutout, scattering four hits in five innings for the victory.
Hamm and Machi were major contributors in the big first inning for the Tigers. After Matt Muslin had delivered an RBI single to give NA a 1-0 lead, Machi brought home a pair with a double to make it 3-0, Tigers.  Two batters later, Hamm drove home two runs with a single and the Tigers were up 5-0. Luke Zahren added a run-scoring single to bring Eric Nascone across the plate and NA held a commanding 6-0 advantage.
The Tigers poured it on in the second inning with three more runs. Machi and Hamm both drove in runs with singles, and sophomore Garrett Hagen connected for an RBI single for a 9-0 lead. Blake Young capped the scoring in the third inning with a double to bring the score to its eventual final, 10-0, Tigers.
With the win, North Allegheny now sits at 5-2 overall and 3-1 in Section 1-AAAA.  New Castle sinks to 4-5 overall and 1-3 in section play. Next up, the Tigers visit North Hills on Monday.  The game will be broadcast live via the internet on the North Allegheny Sports Network.
Line Score - NA Baseball vs. New Castle, 4/12/14
| Score by Innings | 1 | 2 | 3 | 4 | 5 | 6 | 7 | | R | H | E |
| --- | --- | --- | --- | --- | --- | --- | --- | --- | --- | --- | --- |
| New Castle | 0 | 0 | 0 | 0 | 0 | X | X | | 0 | 4 | 0 |
| North Allegheny | 6 | 3 | 1 | 0 | X | X | X | | 10 | 14 | 1 |
WP - Nick Gross (1-0) LP - Matt Gibson