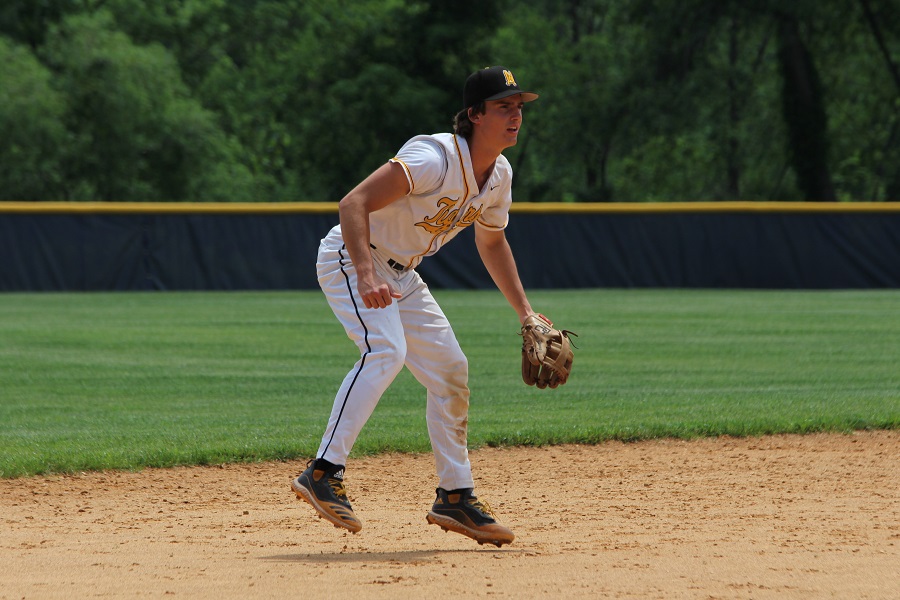 Cole Young Chosen By Seattle Mariners In 1st Rd of MLB Draft
Recent North Allegheny graduate, Cole Young, was drafted by the Seattle Mariners in the first round (21st Overall) of the Major League Baseball Draft on Sunday night. Young is the first North Allegheny baseball player ever selected in the first round of the MLB Draft and highest NA draft pick since outfielder Todd Davidson was chosen in the second round of the 1981 draft by the Pittsburgh Pirates.
Since the MLB Draft started in 1965, Young is only the seventh player out of the WPIAL to be chosen in the first round out of high school. Aside from Young, the most recent WPIAL player taken in the first round out of high school was West Allegheny's Austin Hendrick in 2020.
Young is not only the first North Allegheny player to ever be selected in the first round of the MLB Draft but he is just the fourth Tiger to be chosen within the first three rounds. Along with Davidson in 1981, Paul Failla was drafted in the third round in 1994 by the then-California Angels and Andrew Dobies was selected in the third round in 2004 by the Boston Red Sox. Both Failla and Dobies are North Allegheny Hall of Famers.
Young hopes to become the third North Allegheny baseball player to reach the major leagues, following in the footsteps of Tom Carroll (Class of 1970) and Cory Sullivan (Class of 1997). Carroll played two seasons with the Cincinnati Reds in the mid-70's and was a member of the "Big Red Machine's" World Series championship in 1975. Sullivan spent part of his 6-year MLB career with the Colorado Rockies (2005-2008), New York Mets (2009) and Houston Astros (2010). Sullivan patrolled the outfield for the 2007 Rockies team that reached the World Series under manager Clint Hurdle and fell to the Red Sox in four games.
In 2022, Young capped a spectacular high school career by earning North Allegheny's Co-Male Athlete of the Year award. He was also named the Pittsburgh Post-Gazette's Player of the Year and the Trib Live High School Sports Network's Class 6A Player of the Year, among many other accolades.
Young signed a letter of intent with Duke University in November. He will next make a decision on whether to play collegiately in Durham, N.C., or to sign a professional contract with the Seattle Mariners.
.@ColeYoung23 is our guy!

With the 21st pick of the 2022 #MLBDraft, we've selected the shortstop out of North Allegheny High School (PA). pic.twitter.com/lrvkTtzkYg

— Seattle Mariners (@Mariners) July 18, 2022
History of Tigers in the MLB Draft
| Player | Year | Position | Round | Team |
| --- | --- | --- | --- | --- |
| Cole Young | 2022 | SS | 1 | Seattle |
| Eric Dorsch | 2014 | RHP | 15 | Pittsburgh |
| Eric Dorsch | 2013 | RHP | 21 | Cincinnati (Did Not Sign) |
| Josh Hungerman | 2009 | LHP | 17 | Colorado |
| Josh Hungerman | 2008 | LHP | 50 | Colorado (Did Not Sign) |
| Andrew Dobies | 2004 | LHP | 3 | Boston |
| Mike Butia | 2004 | OF | 5 | Cleveland |
| Cory Sullivan* | 2001 | OF | 7 | Colorado |
| Chris Cooper | 2001 | LHP | 35 | Cleveland |
| Justin Ross | 1998 | OF | 16 | Anaheim |
| Scott Schroeffel | 1996 | RHP | 15 | Colorado |
| Paul Failla | 1994 | SS | 3 | California |
| Kevin McCarthy | 1994 | OF | 4 | NY Mets |
| Scott Schroeffel | 1992 | RHP | 33 | Baltimore (Did Not Sign) |
| Paul Failla | 1991 | SS | 7 | Kansas City (Did Not Sign) |
| Ken Baurle | 1988 | RHP | 58 | Pittsburgh |
| Todd Davidson | 1981 | OF | 2 | Pittsburgh |
| Todd Davidson | 1979 | OF | 17 | NY Mets (Did Not Sign) |
| Tom Carroll* | 1970 | RHP | 6 | Cincinnati |
| * = reached majors | | | | |